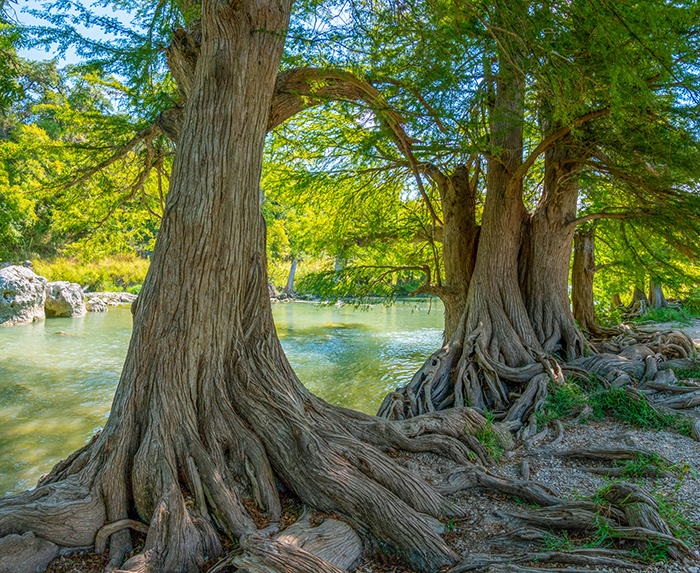 Check out our cabins in the Boerne area.
Just a few miles northeast of Boerne in Kendall County lies the 117-acre plot of scenic land set aside as the Kreutzberg Canyon Natural Area (this link leads to the Kendall County Parks Department web page; click on the Kreutzberg tab on this page for more specific information). Though not as publicized or well-known as some of the Hill Country's other parks and State Natural Areas, Kreutzberg Canyon offers a wide array of things to see and do for nature enthusiasts, fossil hounds, hikers, birdwatchers, and those just looking for a peaceful and restful experience in the most picturesque region of the Lone Star State. Speaking of which, some might refer to it as "Kreutzberg Canyon State Park," or simply "Kreutzberg Canyon Park," which is fine, but officially it's a Natural Area, where the maintenance of its pristine natural condition is the main focus.
Throughout its history, this region has served as ranch land, farming acreage, and a recreational spot for generations of Native Americans and Texans. The land was set aside for both natural preservation and public use, especially for its access to the Guadalupe River for water activity enthusiasts.
Kreutzberg Canyon's access to the Guadalupe River is arguably its most popular feature: with 1,700 feet of waterfront access available to guests here. Visitors tend to gather here more than other areas of the park, and they love to take advantage of the fishing, swimming, tubing and kayaking fun they can celebrate there. For those who aren't feeling quite so adventurous, the shores of the Guadalupe are a perfect place to pop open a deck chair and kick back. The quiet bubbling of the flowing water sets a great stage for folks to relax and decompress. Please keep in mind there are no lifeguards on duty along the river here, so all water activities are at your own risk.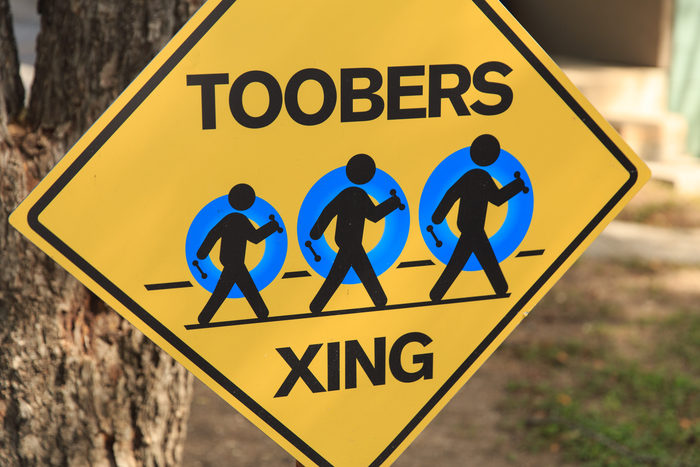 Some reviews of the area mistakenly warn their readers that there are no trails here; this is simply untrue. As a matter of fact, Kreutzberg Canyon trails cover over three linear miles, offering outstanding views of the heart of the Hill Country as visitors hike and bike. Propane grills are allowed on the grounds, so you can also step off one of the trails for a picnic, too. Pets are allowed to join you on your hike, but they must be leashed. The majority of the paths and trails here are in their natural and rugged state, so sturdy hiking boots are recommended.
Kreutzberg Canyon is also home to the Kronkosky Interpretive Garden, where plant enthusiasts can study local and adaptive plant species. Guest can learn about the region's history, and can self-educate themselves on plant identification. There are also bird observation blinds here; binoculars are recommended for spotting the various species that fly through, and the county performs a bird census at 8 AM on the third Tuesday of every month. The public is invited to observe, of course.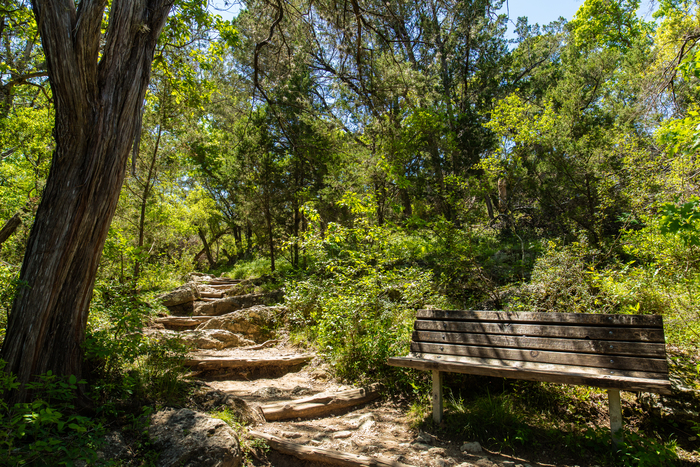 The natural area also features a stone labyrinth that visitors can explore, and those interested in geological, meteorological, and biological history can study a fossil-rich bank, exposed rock formation layers, and even a tornado blow-down that has been left pretty much as-is since the storm. Kreutzberg Canyon has an informational center, but there is no store on-site, so be sure to plan ahead to bring all your food, beverages, supplies and provisions with you. Guests are asked to observe the Seven Principles of Leave No Trace when they visit, to help preserve the park's ecological balance and natural beauty.
For those already in the area, a visit to the Cave Without a Name less than a mile from Kreutzer Canyon is also recommended. (Indeed, the two are so close together that many visitors believe the cave is a part of the natural area.) Guests are invited to explore this natural wonder in cool comfort (the cave's temperature is 66 degrees year round), cut geodes, wander the surrounding trails, and observe wildlife in the area. Reservations are required for tours of the cave. Check their event calendar; they often host live entertainment in their Throne Room. With the unique acoustics here, there's nothing quite like a Cave Without a Name concert!
Maximize your visit to the Kreutzberg Canyon Natural Area—or anywhere else in the beautiful Texas Hill Country—with unique and pampering lodgings! Backroads Reservations has been helping folks put together their dream getaways in the region since 2001, and we'd be delighted to find the perfect guest home or cabin for your visit. We can accommodate anything from an intimate romantic getaway to a large family reunion or corporate retreat!
The Kreutzberg Canyon Natural Area is located at 139 Mark Twain Drive, Boerne, Texas 78006, and their phone number is (830) 537-3470. the park is accessible on FM 474, ten miles northeast of Boerne. The natural area is open from dawn to dusk year round, and there is no admission fee.
The Cave Without a Name is located at 325 Kreutzberg Road, Boerne, Texas 78006, and their phone number is (830) 537-4212. Reservations for tours of the cave are required. Memorial Day through Labor Day, their hours of operation are 9 AM to 6 PM, and post-Labor Day to Memorial Day, they are 10 AM to 5 PM. The park is closed Thanksgiving Day and Christmas Day. Standard admission prices are: Adults $20, Children 6-12 $10; Military/Senior admission is: Adults $18, Children 6-12 $9; Group admission prices (for groups of 12 or more) are: Adults $15, Children 6-12 $8.25. Children under six years of age are admitted for free. Special group tour rates are available for schools.
Several awesome and intriguing Hill Country towns are in the close neighborhood of the Kreutzberg Canyon Natural area! For more information on those towns, be sure to check out our listings of things to see and do there:
Bandera (35 miles southwest)
Boerne (10 miles southwest)
Helotes (35 miles south)
Kerrville (45 miles northwest)
Pipe Creek (25 miles southwest)