VANDERPOOL, TEXAS: A TWIST OF THE HILL COUNTRY
To the average traveler, smaller towns like Vanderpool are a blink-and-you-miss-it experience. They're places to merely pass through on the way from Point A to Point B. Those more major points, to the average traveler, are more exciting and interesting, simply because they're larger and, supposedly, have more to offer. In their minds, places like Vanderpool are just another wide spot in the road. Flyover territory. Nothing much.
Here at Backroads Reservations, we celebrate small Hill Country towns like Vanderpool, and we think it's a shame so many travelers tend to overlook them. Like hundreds of small towns and villages across our country, Vanderpool has its own charm and personality, and has played a role in our heritage just as much as any larger city. We invite our visitors to take the time to explore places like Vanderpool! It's nestled in the gorgeous Hill Country, and folks here tend to go about their lives at a more relaxed pace. That's a special something that many people miss while they hurry to be someplace else. The lucky folks who do stop for a visit are rewarded by the unique attractions this fascinating little town has to offer.
Vanderpool has an interesting history. The land it currently occupies in the Sabinal River Valley was first awarded as a land grant to Jose Texaso, and the grant changed hands and was built upon by several owners over the following years. One land speculator by the name of Henry Taylor wound up collecting several thousand acres, which he sold in the 1850s to establish schools, churches, and cemeteries in the region. The area was all but abandoned in the late 1860s because of Comanche raids on settlers, but by the early 1880s things had calmed enough for them to return. During this period of development, the town was known as Bugscuffle; the origins of this name are unclear, though anecdotal information defines the term as a brief argument between people of low character.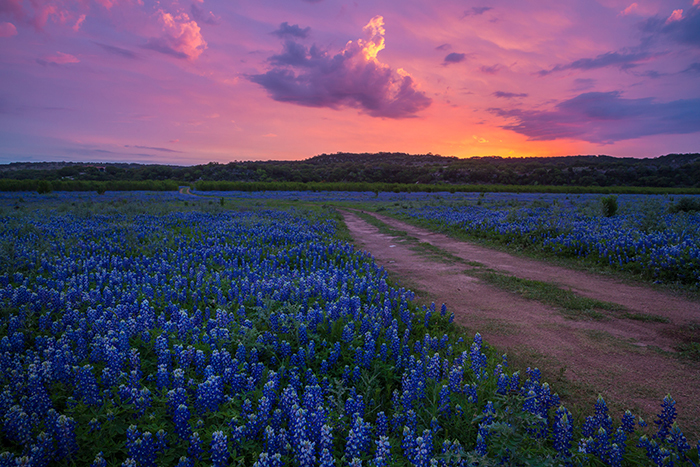 Be that as it may, wiser heads prevailed when a post office was established in 1886. L.B. Vanderpool was the town's first postmaster, and the town was renamed in his honor. The post office itself had a spotty history, closing in 1889, only to open again in 1902. From its inception, the founders of Vanderpool took advantage of the rich farming and ranching land available to them, and many of those family ranches and farms are still operating today.
Vanderpool's home in the scenic Sabinal Canyon provides some of the prettiest views of the Texas Hill Country, and it's also known as a birdwatcher's paradise, since it lies along the migratory tracks of birds you won't see anywhere else in Texas. It's also home to the pristine natural beauty of the Lost Maples State Natural Area, 2,900 acres of a preserved ecosystem that attracts nature lovers and hikers from all over. The panoramic vistas are stunning year round, and beyond amazing in the fall when the leaves change color!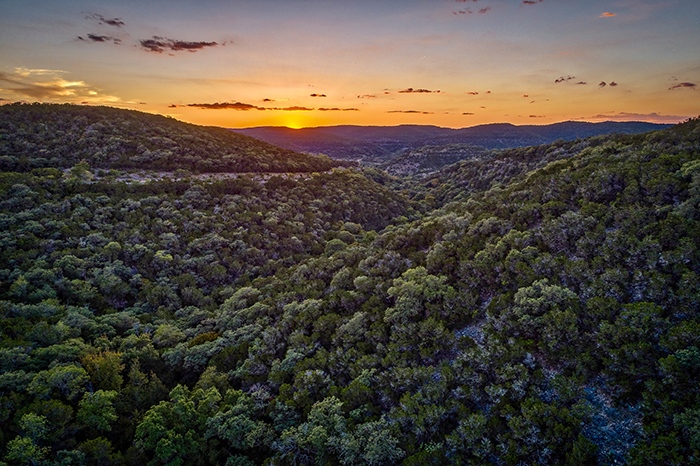 The roads winding around Vanderpool are another great way to take in those brilliant views, and the town is on the route of the renowned Twisted Sisters Motorcycle Trail. This one hundred-mile ride route is named after three Texas farm-to-market (FM) roads: 335, 336, and 337. Vanderpool marks approximately the one-third point on the route, if you begin from Bandera to the east. The Twisted Sisters are available to travelers year-round, but take note: this is an intermediate-to-expert motorcycle ride. Beginners are welcome, but it's strongly suggested they take care on this challenging, twisting route. Excellent reviews and overviews of the Twister Sisters trail are available from Ride Texas and Rider Magazine.
For our friends who love major solar events, we'd like to remind you that Vanderpool will have a ringside seat for two solar eclipses! On Saturday, October 14, 2023, there will be an annular "ring of fire" eclipse, and a full solar eclipse will take place on Monday, April 8, 2024. Download the Hill Country Travel App for more information! Hill Country land owners can also sign up to rent to RV travelers in the app or online!
Wineries, bird watching, scenic tours, and even a motorcycle museum, all await visitors to Vanderpool! Backroads Reservations is based right here in the Texas Hill Country, and we have over two decades of professional property management under our belts. Contact us for more information, and for incredible vacation homes; we'd be delighted to help you get your Hill Country holiday underway!
Explore the Hill Country
The Backroads Reservations Hill Country Travel App

Museums

Restaurants

Kid Friendly

Wineries

Parks

Stores