Check out our cabins HERE!
Just a half hour's drive southeast of Fredericksburg, or less than an hour's drive east of Kerrville, you'll find the Texas Hill Country recreational wonder known as Blanco State Park (though you may hear it referred to locally as simply "Blanco Park"). The park takes its name for the river that runs through it, which in turn was named the Spanish word for "white" for the distinctive limestone banks that line the river. For over 80 years, the park has provided adventure and relaxation on and around its waters to its visitors.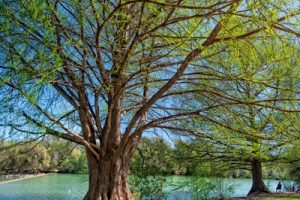 Reliable water sources throughout history have attracted human settlement, and the Blanco River is no exception to that rule. Native Americans, Spanish settlers, and German immigrants over the years have taken advantage of both the flowing waters and the rich agricultural and ranching land surrounding the Blanco. Even today, you'll see vineyards and ranches flourishing along the river, which is spring-fed; this means it doesn't run dry like some seasonal creeks and rivers might.
In the 1930s, parcels of local ranch land were donated or sold in order to create Blanco State Park. Though relatively modest in size at just over 104 acres, the park is nestled against a mile of the Blanco River's shoreline. President Franklin D. Roosevelt created the Civilian Conservation Corps (CCC) during the Great Depression to help people find work during those challenging times, and it was members of the CCC who built Blanco State Park in 1933 and 1934. Their handiwork is still visible here, especially in the stone work of the benches and picnic tables distributed throughout the park.
We've already mentioned the Blanco River is spring-fed; most of the time, that works in its favor, since boiling-hot summers or drought don't tend to affect it as badly as they might other bodies of water. However, in the spring of 2015, circumstances lined up that nearly spelled disaster for the park. After a period of drought, very heavy rains hit the Hill Country and flooded the Blanco. The river's level rose 30 feet, and flood waters roared through the park, scouring a path of devastation. Luckily, devoted rangers and volunteers worked through the spring and summer to restore the park, and it reopened that October. When you visit the park, you might see that some of the trees on the grounds have been tilted by those flood waters, and there are occasional piles of organic debris that were deposited as the floods receded.
Those waters are more tame and much safer these days, and visitors flock to the park to take advantage of activities both on and alongside the river. Anglers come here to fish for bass, channel cats, and sunfish; every winter, the Texas Parks and Wildlife Department also restocks the lake with a fresh population of rainbow trout. As a bonus, since this is a state park, you don't need a fishing license to cast a line from the shores of the Blanco within the confines of the park.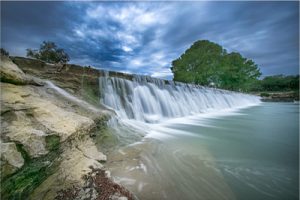 Swimming is allowed anywhere along the river, and for the little ones who don't quite have their sea legs yet, there's a wading pool just for them located next to the Falls Dam. Tubing, canoeing, kayaking, and boating are all allowed on the river; however, boats must have electric motors only. Tubes and kayaks can be rented at the park store between 9 AM and 2 PM, and kayaks must be returned to the store no later than 4 PM. The park store also sells souvenirs, field guides, clothing, and other provisions.
There's plenty to do on dry land here, too! Hiking trails wind through the park, and if you'd like to plan ahead, or need a little assistance during your visit, the park has an interactive trails map online for your convenience. Just like human settlers, wildlife is attracted to sources of water, too; bring your binoculars and check out the birds and local fauna who stop by to take advantage of the Blanco's refreshing waters. For those into geocaching, there are designated spots for that along the trails, too. If you're planning for a larger gathering of folks, the park also has a pavilion and picnic area that can be rented for that purpose, sturdily built by those CCC workers all those years ago. Finally, the rangers at the park are happy to schedule special programs, where they'll share the natural and human history of the park with your group.
Blanco State Park brings so many facets all together in one place for their guests; whether you're into activities on the water, history, nature, or just plain relaxing, you'll find the park a fascinating and beautiful place in which you can indulge and enjoy yourself. This pretty little park is a true Hill Country gem!
Whether Blanco State Park is the central focus of your Hill Country vacation, or it's just one stop on a detailed tour of this gorgeous region, Backroads Reservations is here to help you make the most of your getaway! We all live here, and we're dedicated to finding the best budget-friendly and fun holiday rentals for our guests. Since 2001, we've been proud to serve our many repeat customers. We'll find you the perfect retreat for everything from a simple and intimate romantic getaway to the biggest family reunion. Contact us today, and we'll help you get the ball rolling!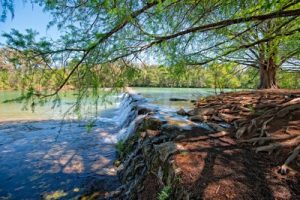 Blanco State Park is located at 101 Park Road 23, Blanco, Texas 78606, and their informational phone number is (830) 833-4333; the number to call for park passes is (512) 389-8900. The park is open daily, 365 days a year. Visitors must arrange for passes to the park ahead of time; you can either call (512) 389-8900 or make reservations online . The on-site park store is open 8 AM to 4:30 PM, and kayak and tube rentals are available from 9 AM to 2 PM; all rentals must be returned to the store by 4 PM. Admission to the park for adults 13 and over is $5.00; children 12 and under are admitted for free. Leashed pets are allowed on the park grounds, but they may not enter Texas Parks and Wildlife Department buildings. School and sponsored group rates are available; please contact the park for details. Seasonal conditions may lead to periodic trail closure; please contact the park's informational number to check on this.
Blanco State Park's location is an ideal one in the Texas Hill Country; it's within an hour's drive of several fun and historic towns. To help plan and maximize your getaway to our neck of the woods, we've compiled this list of informational articles about the towns nearby:
Boerne (39 miles southwest)
Comfort (43 miles west)
Fredericksburg (34 miles northwest)
Helotes (51 miles southwest)
Kerrville (57 miles west)
Pipe Creek (53 miles southwest)
Seguin (57 miles southeast)