CONCAN, TEXAS: YOUR FRIO RIVER GETAWAY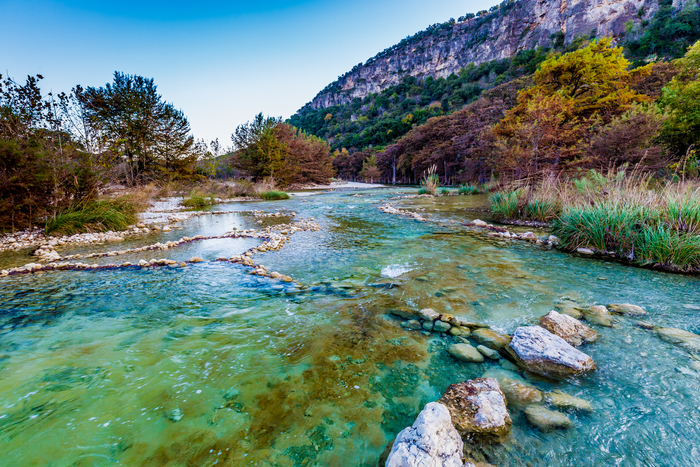 Find lodges, homes, cabins, and cottages available for the 2023 and 2024 eclipses on our Hill Country Eclipse Journey page. Download the Hill Country Travel App for the most up-to-date eclipse information, maps, videos, total darkness calculations, and more!
The scenic Frio River carves its path through about 200 miles of the southern section of the picturesque Texas Hill Country, and the little town of Concan was settled right next to it, right about halfway along the river's valley. The river would provide a vital source of water to local residents, and over time, would help establish Concan's reputation as a Hill Country recreational spot, too.
Native Americans utilized the Frio and settled alongside its banks for thousands of years. Though details are sketchy, it's generally agreed that Mexican and German settlers came here as early as the 1840s. The first "permanent" home, a log cabin with a chimney, was built there by pioneer Theophilus Watkins in the 1860s. Other settlers followed suit, and by 1880 the village of Concan was officially recognized by the United States government with the establishment of a post office. By this point, the humble but productive ranching community had a population of about 120 people.
According to local lore, Concan's name is based upon that of a Mexican card game called Conquian (similar to gin rummy), which was Anglicized to "coon can," from which Concan was derived. Nestled in the Texas Hill Country in north-central Uvalde County, Concan's early history was centered around farming and ranching. Tougher economic times in the late 19th century affected Concan just as it did the rest of the country, and by 1920 the town's population was as low as 20. Two developments around that time would help Concan rebound.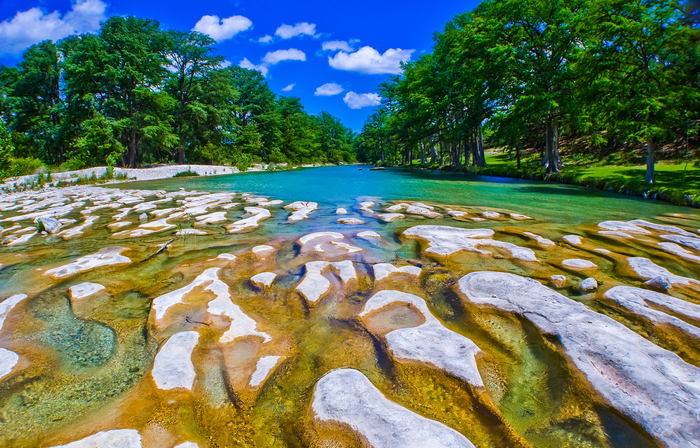 First, the growth of the automotive industry helped to expand the horizons of commerce; what used to be a two-day horse-and-cart ride to San Antonio 80 miles away could now be covered in a small fraction of the time. The cedar, walnut, wild cherry, and cypress trees in the Frio River Valley came into high demand for building materials and furniture. Concan benefited from this lumber boom, and a mill was erected in the late 1930s to accommodate the demand. This wasn't the only way the Frio River helped Concan grow, however.
America's love affair with the automobile really hit its stride in the early 20th century, and it freed people to explore attractions farther from home. The Frio River (Spanish for "cold," referring to its cool, spring-fed waters even in the baking heat of Texas summers) increasingly became a tourist destination. Fishing, swimming, canoeing, and other activities could be enjoyed at minimal expense, and Concan became the epicenter of Frio River tourism, a distinction the town enjoys to this day. Though it's no metropolis by any standard (and the locals like that just fine), Concan currently has a population of about 300 people.
One of the most popular parks in the entire state of Texas is Garner State Park, just north of Concan on the Frio. In the mid-1930s, work began on the park with labor provided by the Civilian Conservation Corps (CCC), a work relief program that helped people make ends meet during the Great Depression. The park was dedicated and opened in 1941, named after John Nance Garner, former Vice President of the United States, who practiced law in Concan. Today, the park covers a total of 1,774 scenic acres. Towering 1900 feet above the park is Mount Old Baldy—a perfect backdrop for photos, as well as a challenging hike to its summit. During the summer, the CCC-era pavilion hosts nightly dances, and there's also a grill and ice cream shop! Grilling, boating, and tubing equipment are all available for rental on-site.
In and around Concan, the Frio is also known for tubing on the river for a relaxing and scenic float. However, there is one caveat here: it's illegal to enter or exit the river on anything but public land, unless you have permission from the landowner. To sidestep that hassle, we strongly recommend paying a visit to an outfitter who provides not only put-in and getting-out spots, but offers tube rentals as well. Where can you find these outfitters?  We're glad you asked!
If you scroll down to the bottom of this page, you'll find Concan businesses listed conveniently by category. The outfitters we mentioned are listed under both the "Parks" and "Kid-Friendly" categories, for example. What's more, you'll find restaurants, shops, and other attractions in the are; it's a must-have resource for planning a trip to the Concan area.
In fact, we'll go you one better! We've gathered community and business information for all the towns in the Hill Country we serve, and it's all at your fingertips with a free download of our Texas Hill Country Travel App! We've got over 20 years of professional short term property management under our belts, and everything we've learned from business people, property owners, and visitors is now at your disposal. What's more, the app offers comprehensive information that applies to your unique vacation needs, from property listings to booking info, from check-in to heading back home, and app-exclusive perks! Even special events like the upcoming Hill Country eclipses will be covered in detail, all for free!
At Backroads Reservations, we live in the Hill Country, we absolutely love it here, and we're dedicated to helping out guests explore this beautiful region. We're your knowledgeable partners for planning an awesome vacation, and we'll do the heavy lifting to help assure your getaway is as trouble-free as possible. We look forward to seeing you!
Explore the Hill Country
The Backroads Reservations Hill Country Travel App

Restaurants

Bars

Horseback Riding

Kid Friendly

Gifts

Parks

Stores