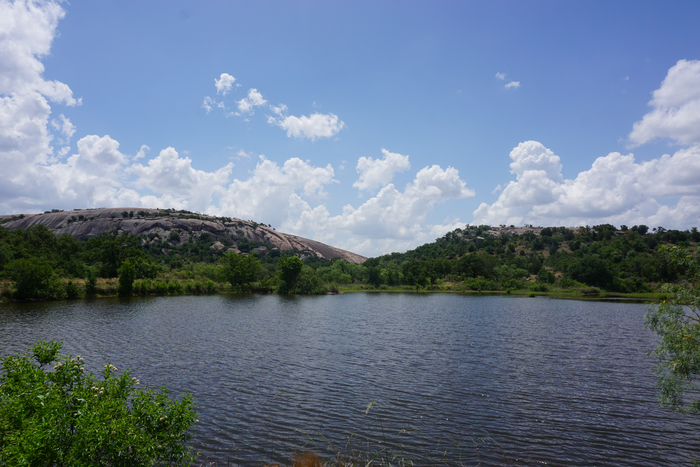 Check out our Hill Country cabins and vacation homes.
As you make your way northward on Ranch Road 965 out of the Hill Country town of Fredericksburg, you'll soon see a pinkish rock dome rising above the horizon. That's the granite dome of Enchanted Rock State Natural Area, straddling the line between Gillespie and Llano counties. Enchanted Rock towers majestically 425 feet above the rest of the park, and 1,825 feet over sea level overall. As one of the largest and most unique granite mountains in the United States, Enchanted Rock was added to the National Park Service's listing of National Natural Landmarks in 1971, and it is also listed on the U.S National Register of Historic Places for its archaeological and geological significance.
Humans have been visiting, and living near, this beautiful and mysterious site for over 12,000 years, and as a result the park's 1,600-plus acres are home to over 400 archaeological sites, 120 of which have been named Archaeological Landmarks by the State of Texas. Some of the oldest traces of human occupation here are the bedrock mortars, which are indentations pressed into the granite as prehistoric people ground grain and other food items into flour against the hard and coarse rock. Native Americans, Spanish conquistadors, and European immigrants have all called this area home, and in 1841, renowned Texas Ranger Captain Jack Hays (who would move on to found the city of Oakland, California) is said to have holed up in a granite cave at Enchanted Rock, fending off an ambush for three hours until reinforcements could arrive.
The "enchanted" part of the mountain's name is firmly steeped in legend. The pink granite, especially after absorbing the baking heat of a hot Texas day, cools at night, and the entire mountain is said to creak and groan as the rock settles. This logical and geological explanation hasn't stopped the handing down of more fascinating legends over the years, however. Some say it's the spirit of a Native American lady who witnessed the slaughter of her tribe nearby, who hurtled herself from the summit in grief. She now spends eternity mourning their loss from the top of the mountain. Others claim a chief had his daughter sacrificed at the summit, and is forced to pay penance at the site of his transgression. These many legends (listed in more detail in this Texas Hill Country magazine article), combined with the various sounds and visual effects seen and heard on the mountain, have over the years given it its well-earned name, Enchanted Rock.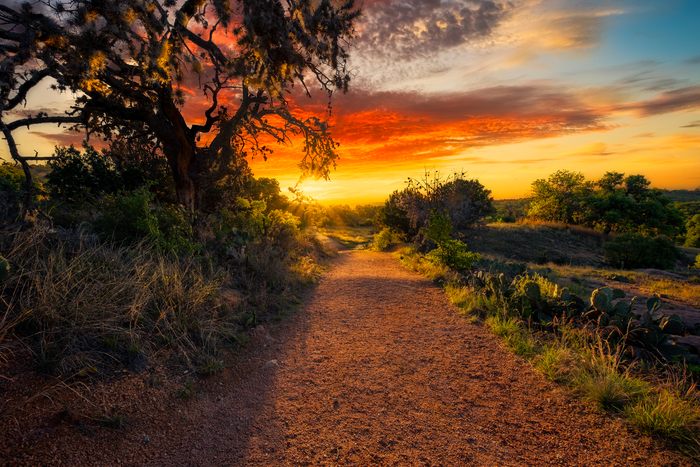 There's a lot to take in here, and plenty to appeal to visitors, whether your interests lie in the geological, biological, or even the supernatural. Thousands of visitors each year come to Enchanted Rock to hike; the park features almost 11 miles of hiking trails. The Summit Trail leads you to the top of the dome, where some of the most astounding elevated views in the entire Hill Country will take your breath away. Climbing Enchanted Rock, it should be noted, takes the average hiker between two and three hours.
Enchanted Rock also features interpretive displays, wildlife watching, picnic areas, and stunning stargazing on crystal-clear nights. Ranger-guided hikes are available, where they'll offer their knowledge of the area's natural and geological history, and they also make themselves available to the public for glittering nighttime star parties. If you'd like to explore on your own, that's cool, too; there's plenty of local wildlife and flora to check out, not to mention those amazing Hill Country views in every direction you look. If you're feeling a bit more adventurous, check in at the park headquarters, and they'll provide a map of the areas in the park where you can practice your rock climbing skills (this is an at-your-own-risk activity, and you'll be asked to sign a release form). The park store at Enchanted Rock features souvenirs, firewood, and other various supplies; guests are asked to bring their own drinking water.
As a designated State Natural Area (which is its official name, though many call it "Enchanted Rock Park"), the first priority here is the conservation and maintenance of the natural, archaeological, and geological integrity of the area; with that in mind, please note that the trails are for hiking only. Bikes are not allowed on the trails, nor are pets; the latter are allowed under close, leashed supervision in designated areas of the park. With the ecological balance of the area in mind, visitors are asked to observe the Seven Principles of Leave No Trace, designed to not only protect the park, but to optimize your visit and that of others.
While surveying the countryside from the top of Enchanted Rock, make it a point to consider the many towns and attractions of the surrounding Texas Hill Country! An important part of that exploration is a comfortable, unique, and budget-friendly place to stay; that's where Backroads Reservations comes in. Since 2001, we've built a strong reputation of the best selection of fun and relaxing vacation getaways in this beautiful region of the Lone Star State. From intimate romantic hideaways to the largest family gatherings and corporate retreats, we'll find you the most interesting and pleasant places to maximize your Hill Country experience.
Enchanted Rock State Natural Area is located at 16710 Ranch Road 965, Fredericksburg, Texas 78624, and their phone number is (830) 685-3636. The park is open all year round, with gates opening at 6:30 AM daily. Gates close at 8 PM, and all non-camping visitors must leave the park by 10 PM. Enchanted Rock trail hours run from half an hour before sunrise until half an hour after sunset, with the exception of the Loop Trail, which is open to hiking until 10 PM. The Summit Trail and other elevated areas of the park may close during inclement weather; please call ahead if this may be in question. The busiest visiting season at Enchanted Rock is between the months of September and May; during these months, it's recommended to arrive early, as visitors may be turned away if the park becomes overcrowded. For guaranteed entrance to the park, either call ahead or reserve an Enchanted Rock day pass online. The admission fee for adults (age 13 and over) is $8.00, and children under 12 are admitted free.
We recommend a visit to the Hill Country towns listed below when you're in the neighborhood of Enchanted Rock. All these towns are within an hour's travel from the park, and offer lots of wonderful diversions, shops, and attractions:
Boerne (57 miles south)
Comfort (40 miles south)
Fredericksburg (18 miles south)