HILL COUNTRY STATE NATURAL AREA: BACK TO NATURE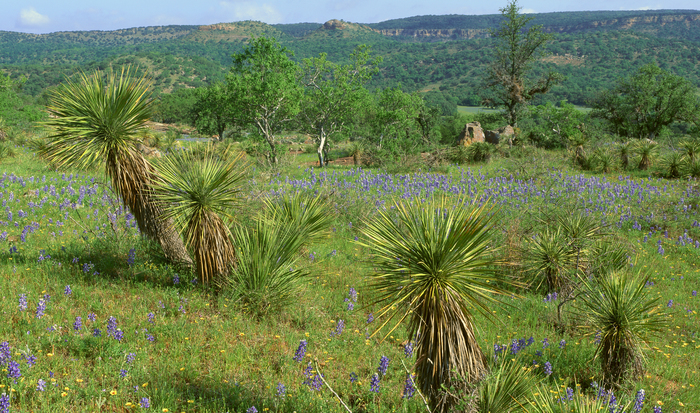 We'll be honest here: if your idea of "roughing it" is no cable TV and briefly being out of cell phone range, the Hill Country State Natural Area probably isn't going to be your cup of tea. However, if you're seeking a rustic and beautiful return-to-nature getaway, enhanced by the breathtaking views only the Texas Hill Country can provide, a visit to the Hill Country State Natural Area will prove to be a memorable treat. (A semantic note here: some folks refer to it as the "Hill Country State Park," but officially it's designated as a Natural Area, since the emphasis here is on the preservation of its natural state.)
Perched on the border between southern Bandera and northern Medina Counties, the Hill Country State Natural Area is enormous—even by Texas standards—at over 5,300 acres. Canyons and plateaus dot the expansive landscape, offering visitors an ideal escape from the hurry and bustle of everyday civilization. You'll be transported to a simpler and quieter world the minute you arrive here.
Many regions of the Lone Star State have a tumultuous history, with clashes between cultures on the path to independence and statehood. By comparison, the area that was to become the Hill Country State Natural Area has had a relatively quiet history. Settled by Native Americans first, then white settlers in the mid-1800s, this region was used mainly for hunting, farming and ranching, becoming the Bar-O Ranch in the 1940s. In the 1970s and 1980s, ranch owner Louise Lindsey Merrick donated the land for the natural area, with the provision that it was "to be kept far removed and untouched by modern civilization, where everything is preserved intact, yet put to a useful purpose." Opened to the public in 1984, the Hill Country State Natural Area has since been faithfully maintained with Mrs. Merrick's words in mind.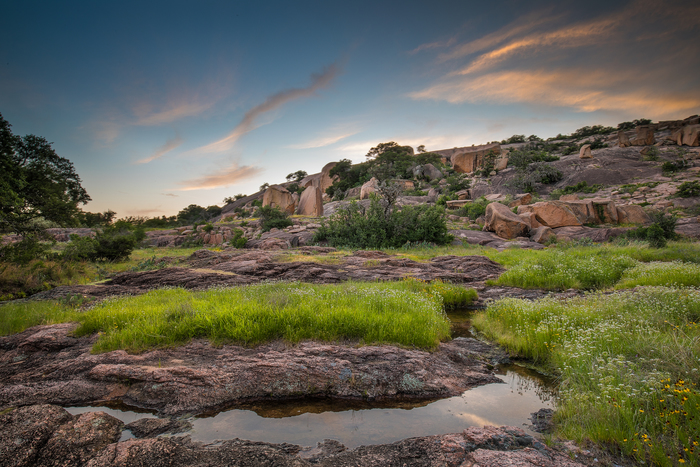 As a state natural area—as opposed to a state park—the emphasis here is on the preservation of nature and the wildlife habitat it provides. As such, it's a very rustic and pristine setting. There are over 40 miles of hiking and equestrian trails on its grounds, but for the most part the natural area is just that, with higher importance devoted to the natural setting than to human amenities.
That isn't to say visitors aren't welcomed with Texas hospitality, of course! There is a lodge that can sleep up to 12 people, with bathrooms and a kitchen, but keep in mind potable (drinkable) water is not available there, or anywhere else on the premises. Please bring your own cooking utensils and drinking and cooking water for your visit. Primitive camping areas are located throughout the area, as well, including equestrian sites for those staying overnight with their horses. Should you bring your pets, they must be kept on a lead of no more than six feet in length.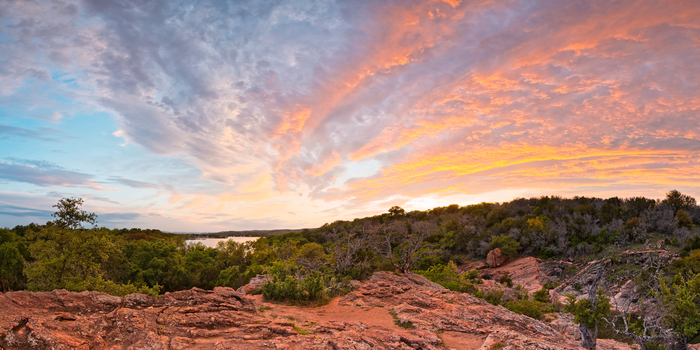 Wildlife abounds here, and almost all the fauna that call central and southern Texas home can be spotted by the vigilant wildlife-watcher. The region is known as a hot spot for bird watching, as well, so bring your binoculars! Hikers will love the trails here, with everything from simple one-mile strolls to full day hikes several miles long.
On the trails of the Hill Country State Natural Area, horseback riding is another excellent way to survey the land. Dress for the terrain when you visit; boots and long pants are recommended, since many of the trails are bordered by cactus and other thorny plant life.
Speaking of which, if you'd really like to challenge yourself, the Hoka One One Bandera Endurance Trail Run is held every January at the Hill Country State Natural Area. Runners can register for 100 km, 50 km, or 25 km distances. As the sponsors describe it, "no whiners, wimps or wusses" are allowed, and the trail is one "of rugged and brutal beauty where everything cuts, stings or bites." Well, it is Texas!
Hill Country State Natural Area camping offers additional rewards; campers who love to look skyward at night will be rewarded with spectacular celestial views, too. The vicinity has an average Bortle scale rating (a scale that measures overall night darkness, on a scale from 1 to 9) of 4, depending on moon phase. This will give you a skyward view that's much better than what you'd get in any city!
If you'd like a guiding hand during your visit to the Hill Country State Natural Area, hiking and horse riding guides are available for guests. Their official web page has a list of guide service providers who will be more than happy to help you out. Ranger programs are also available; they'll provide not only hiking guides, but a history of the area and it's natural wonders. Call ahead if you'd like to have a ranger host your group.
As an officially-designated natural area, the Hill Country State Natural Area asks all guests to observe Leave No Trace principles while they're there. These seven guidelines are intended to protect all guests, as well as the local land and wildlife.
Your "home base" for your visit to the area shouldn't be a letdown after the natural beauty of the Hill Country State Natural Area. Don't settle for a run-of-the-mill box of a hotel room! Backroads Reservations provides rentals with all the amenities and character you'll love. Take a look at the properties we have nearby, in communities such as Bandera, Medina, and Tarpley.
The Hill Country State Natural Area is located at 10600 Bandera Creek Road, Bandera, Texas 78003, and their phone number is (830) 796-4413. Reservations can be made by calling (830) 389-8900. Park office hours are 8:15 AM to 4:15 PM daily, and entrance fees are $6.00 for those 13 and over (12 and under get in for free). Their busiest seasons are in the spring and fall. There is no park store, so please be sure to bring your own provisions and drinking water. It's recommended you call ahead and ask about possible weather-related closures in the area. Find more information about the Hill Country in our mobile app on iPhone and Android.
Don't just visit the Hill Country State Natural Area; there are several small towns with a lot to offer nearby! Take a look at our detailed listings of attractions in the following communities in the area:
Bandera (11 miles northeast)
Boerne (35 miles northeast)
Comfort (39 miles northeast)
Hondo (27 miles south)
Medina (14 miles north)
Pipe Creek (20 miles northeast)
Tarpley (9 miles northwest)
Utopia (28 miles west)
Vanderpool (34 miles northwest)