LOST MAPLES STATE NATURAL AREA: PRISTINE HILL COUNTRY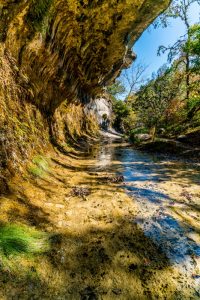 Find events, parks, attractions and restaurants in our free travel app.
Straddling the Bandera and Real County line in the Hill Country is the Lost Maples State Natural Area. For five decades, Lost Maples has defined the very best of the natural wonder the region has to offer. Backroads Reservations is proud to offer this overview of Lost Maples to all potential visitors to the Hill Country. The allure of this natural space makes Lost Maples Texas Hill Country's most popular relaxation spot!
Anthropological and historical records show that the Lost Maples area had been inhabited by humans since prehistoric times. Luckily, however, throughout its history, the human habitation that took place had been low-impact—that is to say, no irreversible harm was done to the land, wildlife, or plant life indigenous to what we now know as the Texas Hill Country. Small Spanish colonies, Native American settlements, and ranching were prominent in the area during its more modern history (from the 17th century forward), leaving it more or less untouched and in its natural state.
The area's history made it a prime location for a state natural area, and the State of Texas purchased the original 2,174 acres from local landowners in 1973 and 1974. The natural area opened to the public on September 1, 1979, and in 2009 it was expanded to its current dimensions of 2,900 acres. You'll notice we don't refer to Lost Maples as a state park. Its official designation is that of a Natural Area, which means the emphasis on the property is the preservation of its natural state. While many accommodations for visitors are available at Lost Maples, its main reason for existence is its natural beauty—for which it is renowned throughout Texas and beyond. Small wonder, then, that it was designated a National Natural Landmark in 1980. You might hear folks refer to it variably as "Lost Maples State Park," or just "Lost Maples Park," but officially it's a Natural Area, since its main reason for existence is the maintenance of its natural beauty.
With all that said, Lost Maples is a hot spot for nature lovers from all over the country. Careful steps are taken in the area's maintenance, so it looks almost exactly the way it did when man first stepped foot onto its land. Bring your binoculars; you'll be able to spot several species of birds and other wildlife that call the area home, not to mention its diverse display of beautiful plant life.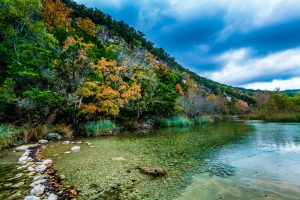 Not surprisingly, Lost Maples was named for its abundance of maple trees, and it's a Lone Star State favorite for viewing of its astounding fall foliage. Mid-October to Mid-November are the best times to take in the fall colors; however, keep in mind Lost Maples offers amazing views of the Hill Country countryside all year round. There literally isn't a bad vantage point anywhere! During peak fall foliage season, the park closes to new visitors when its parking lots are full—so call ahead during those times (their parking lots have space for 250 cars). Lost Maples also maintains Fall Foliage Color Reports on their website during peak leaf color season.
Lost Maples'; hiking trails are renowned, too, and there's almost ten miles of them. One of the trails features an overlook that's over 2,000 feet up, a perfect place for a panoramic view of the surrounding Hill Country. If you're up for a hike, dress for the occasion; some of the trails can be quite rocky and challenging. Visitors are strongly advised not to leave marked hiking trails, both for their own safety and for the preservation of the natural area's beauty.
Camping is available at Lost Maples, too—there are 30 sites with electricity and water, and there are also a half-dozen primitive campsites throughout the area. If you'd like to bring your rod and reel, the Sabinal River and Can Creek both run through Lost Maples. Anglers who fish from a shore or a pier here do not need to have a fishing license to do so.
Lost Maples also offers some of the darkest night skies in the Hill Country, perfect for stargazing! The Bortle Dark-Sky Scale measures the light pollution in a location, with 1 on the scale being total darkness, and 9 representing the almost-impossible sky viewing conditions in the heart of a city. On this scale, Lost Maples averages a 3, varying with the phase of the moon and other factors. They offer a wealth of information for those who like to search the night sky on their site's Stargazing section.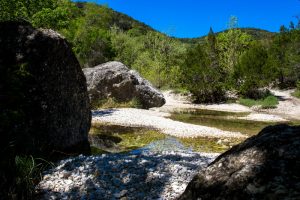 Since Lost Maples has the designation of a natural area, the park's staff ask all guests to observe Leave No Trace principles during their visits. This is a list of seven guidelines to follow, all of which are crafted to protect you, the land, the wildlife, the plant life, and your fellow visitors. While they're of great importance when visiting a natural area like Lost Maples, they're a good idea to follow whenever you travel to a natural setting.
After taking in nature's finest at Lost Maples, the last thing you want to do is return to a bland hotel room with no personality. Your Hill Country visit deserves better! Backroads Reservations has unique and clean rentals with spectacular views, all handy to where you want to be. We have rentals in locations close to Lost Maples, such as  Utopia and Vanderpool .
Lost Maples State Natural Area is located at 37221 FM 187, Vanderpool, Texas 78885, and their phone number is (830) 966-3413. Reservations can be made by calling (830) 389-8900. Park hours are 8 AM to 5 PM daily, and entrance fees are $6.00 for those 13 and over (12 and under get in for free). Their busiest seasons are March through May, and October through November. When their parking lots are full (250 vehicle capacity), Lost Maples closes to additional visitors—so call ahead during peak seasons.
Lost Maples is surrounded by vibrant and fun communities, all of which are worth a visit while you're in the area! Feel free to browse our overviews of these nearby towns, so you can round out your Hill Country getaway:
Bandera (39 miles east)
Concan (36 miles southwest)
Leakey (19 miles southwest)
Medina (29 miles east)
Tarpley (30 miles southeast)
Utopia (20 miles south)
Vanderpool (5 miles south)