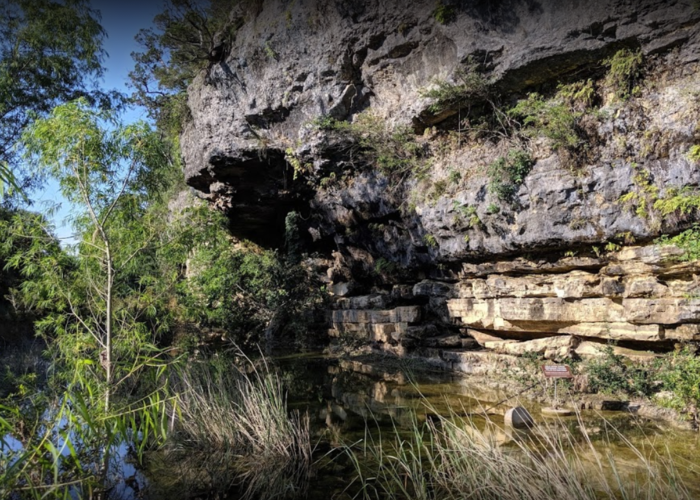 Check out our cabins in our mobile app for your next Hill Country adventure!
In northwest Bexar County, just north of San Antonio, lie the 12,244 naturally-preserved acres of the Government Canyon State Natural Area. Folks sometimes refer to it as "Government Canyon State Park," or just "Government Canyon Park," though officially it's a Natural Area, where the chief focus is on environmental restoration and stability. As a result, urban development is not allowed here, because it serves as protection for the Edwards Aquifer that provides much of the drinking water for San Antonio. Because it has been set aside for this purpose, Government Canyon has been designated an "aquifer recharge zone," where fresh water can be gathered with minimal pollutants.
The clean springs and naturally-occurring floodplains in this region have attracted human settlers from the very beginning, dating all the way back to Native Americans who camped here, hunting the region's bountiful wildlife and taking advantage of its quiet setting as a recharge spot of their own before moving on to other locations. The 19th century brought European immigrants here, who took advantage of the rich soil and clear water for ranching and farming. When the US government laid a road through the region to blaze a path to forts in the west in the 1850s, the project was nicknamed the "government road," leading through the "government canyon." That nickname stuck, and has worked its way into official usage.
As San Antonio grew, so did concerns for the city's supply of fresh and safe drinking water. Environmental groups, in partnership with the Texas Parks and Wildlife Department, heeded and addressed these concerns, ultimately creating the Government Canyon State Natural Area (SNA). Land purchases toward that goal began in 1993, and the Government Canyon SNA officially opened in October of 2005.
Not only does Government Canyon serve as a recharge zone for the Edwards Aquifer, but it's laid out as a serene and scenic recharge zone for visitors, as well. Open to the public Fridays through Mondays year round, the natural area provides ample opportunity for both relaxation and adventure, not to mention the breathtaking beauty of the Texas Hill Country.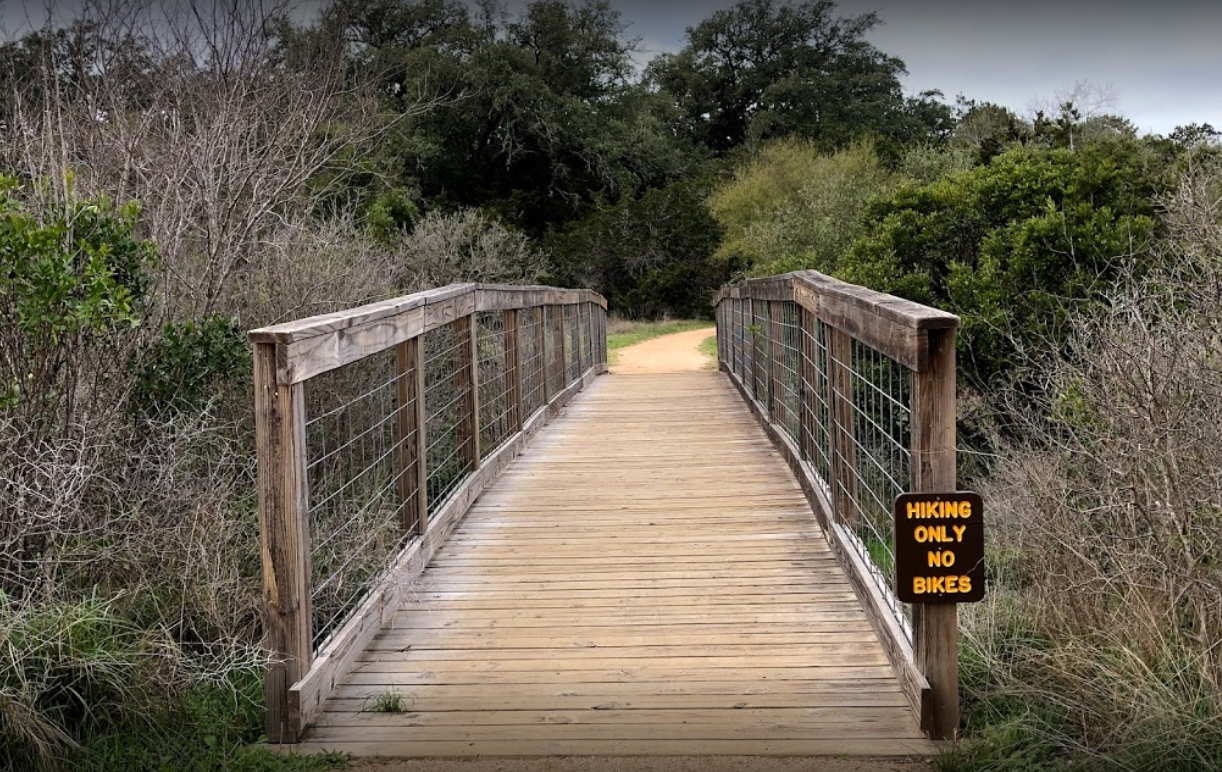 With over 40 miles of them to explore, the Government Canyon trails are ideal for hiking and bike riding. (Some trails are designated for hiking only; this map outlines the trails in more detail.) While you explore the trails here, there's plenty of bird and wildlife species to spy along your way; there are also ranger-guided tours along the hiking trails available; contact the park (contact info listed below) for more details. There are also geocaching spots on the trails, and the young ones will love exploring the playscape sculpted from all-natural materials. Several lookout destinations on the trails here offer some of the most amazing views of the Hill Country, too; be sure to bring your camera!
One of the trails at Government Canyon is particularly popular. The military supply road that was built in the 1850s is still here; it's called the Joe Johnston Road, after the lieutenant colonel who mapped out and oversaw the original project. History buffs will appreciate the trip through time they'll experience along this trail. One of the highlights is the Zizelmann House, which appears much as it did when it was built here in 1882. You'll really take a step back in time when you see the fossilized dinosaur tracks here, pressed into the mud 110 million years ago!
Whichever trails you decide to visit, please keep in mind that certain trails may be closed due to inclement weather or other poor conditions. In addition, the natural area may close due to maximum capacity issues. We recommend visitors call the park (contact information listed below) or keep tabs on their trail reports and capacity status on their Facebook and Twitter accounts. These accounts are also excellent resources for information regarding ranger programs and special events that take place at Government Canyon.
If you're seeking a natural setting for a family reunion, corporate retreat, or other group gatherings, Government Canyon also has a group hall and pavilion that can be rented for those purposes. While guests are invited to use and enjoy these facilities—as well as the other regions of the natural area—you are reminded to follow the Seven Principles of Leave No Trace when you visit here. Government Canyon State Natural Area is an ecologically-sensitive location, and your help and cooperation in keeping it clean and pristine is appreciated.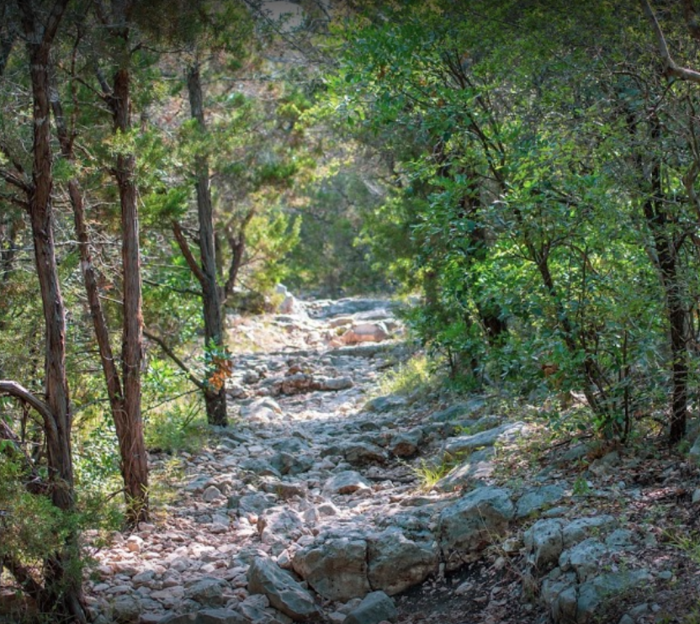 When you're planning a visit to Government Canyon, or anywhere else in the Texas Hill Country, be sure to contact us at Backroads Reservations! Whether you're looking for an intimate and romantic hideaway, a family vacation cabin, or any other type of get-together, don't settle for a drab hotel room! We offer the most unique, clean, and fun vacation rentals in the region; it's something we've taken pride in since 2001.
The Government Canyon State Natural Area is located at 12861 Galm Road, San Antonio, Texas 78254, and their phone number is (210) 688-9055. Reservations can be made by calling (512) 389-8900. Park hours are 7 AM to 10 PM Friday through Monday, and entrance fees are $6.00 for those 13 and over (12 and under get in for free). Government Canyon is closed Tuesday through Thursday.
Government Canyon is in a great neighborhood in the Hill Country, and it's close to several fun and fascinating towns. Check out or listings of the following towns in the area for even more ideas for interesting things to see and do:
Bandera (35 miles northwest)
Boerne (30 miles northwest)
Castroville (23 miles southwest)
Helotes (8 miles northeast)
Hondo (37 miles southwest)