Explore parks, businesses, kid and pet-friendly attractions, and more in our free travel app 
Just east of the historic Hill Country towns of Johnson City and Fredericksburg, guests can visit the sprawling Pedernales Falls State Park . The park includes over 5,200 acres of recreational space, the centerpiece of which is the Pedernales River itself. For fifty years and counting, this park (also referred to as "Pedernales Falls Park," or simply "Pedernales Falls") has provided a getaway for those seeking adventure on the water, hikers, nature lovers, and more.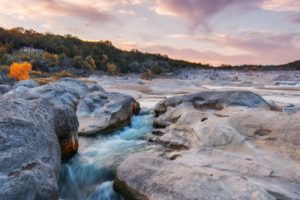 The Pedernales River runs from west to east through the northern part of the Texas Hill Country; its course runs for just over 100 miles. It earned its name from Spanish conquistadors who visited the region and noted the flint rocks that line the riverbed to this day; "pedernales" is the Spanish term for those types of rocks. As is common for rivers and bodies of reliable fresh water all over the world, the Pedernales attracted human settlement way back in history, before it even had a name.
Native Americans settled here thousands of years ago, utilizing the local resources, hunting the wildlife that came to drink there, and taking advantage of the rich ranching and farming land surrounding the river. Spanish settlers followed suit, as did immigrants from other European countries after them. The area is best known for its ranching; as a famous example, the historic LBJ Ranch uses part of the Pedernales to mark its southern property line. As a matter of fact, the land that became the Pedernales Falls State Park was a working cattle and horse operation called the Circle Bar Ranch. The owners of the ranch sold it to the Texas Parks and Wildlife Department in 1970, who developed the park and opened it to the public a year later.
It didn't take very long for the park to gain a reputation as a premier recreational site, especially on the water. Anglers can cast a line from its shores for free; no fishing license is required within the confines of this, or any, state park in Texas. Folks are welcome to swim here, too, though swimming is not allowed in the choppier waters surrounding the falls themselves. The swimming area and Trammell's Crossing Trail are excellent put-in spots for those who'd like to tube, canoe, or kayak on the Pedernales. Again, put-ins and take-outs are not allowed around the falls. When the water levels are higher, the park's section of the river is a popular spot for whitewater rafting, as well.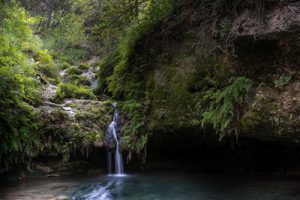 We'd like to point out here the importance of being aware of the river's level before you plan any activities on its waters. The Pedernales River's depth and water speed can vary quite a bit; while this is true of any river in Texas, the Pedernales has a reputation of being a little more wild, especially during and following periods of heavy rain. Flash flooding turns the normally calm river into a dangerous and fast-flowing wall of roaring water in a very short period of time. These resulting conditions can be dangerous and even deadly to those who aren't well-versed in tubing, swimming, or boating. We recommend to our guests this link to the United States Geological Survey's (USGS) up-to-date water data for the Pedernales. We bring this up not to warn people away from the park; far from it! We want our visitors to enjoy it to its fullest potential as safely as possible.
Once you've enjoyed your time on the water, and have had a moment to towel off, there's plenty more to do on dry land at the park. With almost 20 miles of hiking and biking trails, along with ten additional miles of equestrian trails, guests can explore this section of the scenic Hill Country and its plants and wildlife at their leisure, on trails of varying terrain and difficulty. At the north end of the park, check out the falls from which it takes its name; the water tumbles over slabs of natural limestone, dropping over 50 feet in elevation in just over half a mile. For those wanting to check out more of the local wildlife, the park also features a bird blind and butterfly garden. Round out your visit with a picnic in the park; it's a perfect way to cap off a day in the scenic Hill Country!
For those who love the adventure and fun of the great outdoors, we heartily recommend a day trip to Pedernales Falls State Park. It's got plenty to offer to everyone in your crew, from vigorous mountain biking and kayaking to relaxing strolls—or just kicking back and unwinding. When you visit Pedernales Falls, you'll need a place to stay; that's where Backroads Reservations comes in. For over two decades, we've found the most affordable, fun, unique, and memorable vacation rentals for our valued guests. Let us help you make the very most, and the very best, of your Hill Country escape!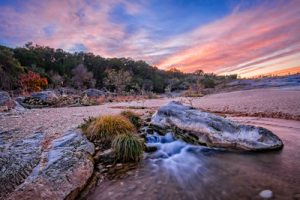 Pedernales Falls State Park is located at 2585 Park Road 6026, Johnson City, Texas 78636, and their phone number is (830) 868-7304. Reservations can be made online or by calling (512) 389-8900. The park is open Wednesday through Sunday year round, from 8 AM to 5 PM. Reservations are not required, but they are recommended, since the park turns visitors away when they reach capacity. Those with reservations will be allowed access to the park first. The park's busier season is between spring and fall. Admission for adults 13 and over is $6.00; children under 12 are admitted free of charge. Some trails and water activities may be closed due to certain weather conditions; please contact the park ahead of time for this information.
Pedernales Falls State Park is located in the heart of the northern Hill Country, which is also home to fun and fascinating towns and attractions. For a better idea of what's going on nearby, check out our listings of some of those towns at the links below:
Boerne (64 miles southwest)
Comfort (63 miles southwest)
Fredericksburg (43 miles west)
Kerrville (66 miles southwest)