Hill Country cabins, homes, attractions and events can be found by downloading our free travel app
About an hour northwest of Kerrville and Fredericksburg in the Texas Hill Country, you'll find the sprawling riverside park known as the South Llano River State Park . That's quite a mouthful, and you might hear locals abbreviating it as "South Llano State Park," "South Llano Park," or simply "Llano Park" or "South Llano." Whatever you call it, this state park provides fun, adventure, and relaxation both on and off the river. The Llano River (the south fork of which runs through the park) flows for just over 100 miles through the limestone terrain of the Edwards Plateau in the northern Hill Country. The Spanish word "llano" itself refers to an open and grassy plain; at first glance, this might seem like an odd name for not only a river, but one in the Hill Country! However, if you travel north and west from the park, you'll see the hilly terrain tends to flatten out into the plains evoked by the word llano; the name of the river describes more the land in the region than the river itself.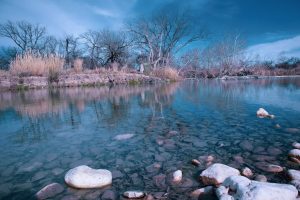 Nomadic Native American tribes made use of the Llano before it ever had a name (or their name for it has been lost to history). Since those tribes tended to wander, following wildlife and friendlier weather throughout the year, permanent settlements were the exception, not the rule during that time. It really wasn't until more recent history (the last 150 years or so) that the river was put to more continuous use by European immigrants who came in and called the region their permanent home. Since the land in this area of the Hill Country is a little more arid than that just south of where the park is now, it was put to use for ranching, as opposed to farming, which tends to require more water.
This is where the family of Walter White Buck, Sr. comes in. In 1910, the Buck family settled here and established a ranch for cattle, sheep, and goats, and a large pecan tree orchard. When the senior Mr. Buck passed away, Walter Jr. took over the management of the ranch, tending to it successfully well into the 1970s. As a matter of fact, he carefully irrigated the land and trimmed back his cattle herds during a five-year drought in the 1950s, making him one of the ranchers who came through that period unscathed. In 1977, Walter White Buck, Jr. sold his ranch to the Texas Parks and Wildlife Department, in the hopes it would be used for conservation or as a state park. It would wind up being a little bit of both.
Originally, the former Buck ranch was divided into two sections. The 600 acres closest to the river was developed into the South Llano River State Park, and was opened to the public in 1990. The remaining acres, composed of more rugged terrain, was the Walter Buck Wildlife Management Area. This section of 2,000 acres was integrated into the state park in 2011, giving the park a total 2,600 acres of space. The original Buck family home now serves as the park's headquarters, complete with an late-1800s cake box found tucked away in the attic!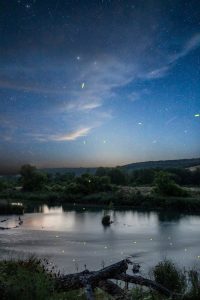 The spring-fed South Llano River flows at a mellow rate, making it an ideal water playground for visitors of all ages. The park boasts over two miles of river frontage, offering plenty of places to enter and leave the river, no matter what your recreation of choice may be. For example, anglers can test their skills in catching the Guadalupe bass, Texas' state fish! Since this is a state park, no license is required to cast a line here, and park headquarters can even set you up with fishing equipment. Not in the mood to fish? Swimmers are invited to wade right in for a refreshing dip in the river, too. More in the mood for a float? Tubing, kayaking, and canoeing are all popular here, with several put-in and take-out spots within the park's borders. You can bring your own tubes, kayaks or canoes if you like, of course. If not, tubes are available for rent from the park's headquarters, and kayaks and canoes are provided by two local outfitters: Paddler's Porch and Spring-Fed Adventures.
Hikers and bikers can take advantage of over 22 miles of trails at South Llano River State Park, too. These trails range from easy trails, where you can take a leisurely nature-watching stroll, to more difficult and challenging back country trails that will give you a sense of solitude even when the park is crowded. Wildlife abounds here, especially birds, where over 250 species have been spotted over the years. Four bird blinds are set up throughout the park for optimal viewing, and there's also a wild turkey roost here, where they settle in between October and March. South Llano River State Park also offers some of the darkest night skies in Texas; as a result, it's part of the International Dark Sky Association, which supports stargazers looking to explore the skies of the world. Finally, rangers at the park offer enlightening and entertaining programs on the park's wildlife and history throughout the year; check out the park's website (linked in the first paragraph of this article) for more information.
Day or night, on the river or off, South Llano River State Park has plenty to offer to folks with varying interests. It's located where the Hill Country meets West Texas, and it offers a fascinating look at the varying natural beauty and terrain that can only be found in this unique setting.
If you're planning a visit to South Llano River State Park, make it a point to touch base with us here at Backroads Reservations! We know the Hill Country inside and out, and we'll be able to find the best vacation hideaway options for your holiday, no matter how many folks you have coming along.
South Llano River State Park is located at 1927 Park Road 73, Junction, Texas 76849, and their phone number is (325) 446-3994. Reservations can be made at this online link , or by calling (512) 389-8900. Reservations are not required, but the park reserves the right to turn guests away during periods of peak capacity; making reservations ahead of time will help you avoid this. The park is open seven days a week year round, with these seasonal hours: April 1 to September 30, 8 AM to 10 PM; October 1 to March 31, 10 AM to 3 PM. The special winter hours are to protect the wild turkeys during their roosting season. Peak visiting times at the park are between spring and fall. Admission for adults 13 and over is $5.00; children under 12 are admitted free of charge.
Many vacationers make visiting South Llano River State Park the centerpiece of their Hill Country holiday. There are several historic and fun towns in the vicinity of the park that certainly deserve a look while you're in the neighborhood! Check out our overviews of these towns at the links below:
Comfort (73 miles southeast)
Fredericksburg (68 miles east)
Kerrville (59 miles southeast)
Leakey (68 miles south)
Vanderpool (77 miles south)