HYE, TEXAS: PEACHES, WINE, AND LBJ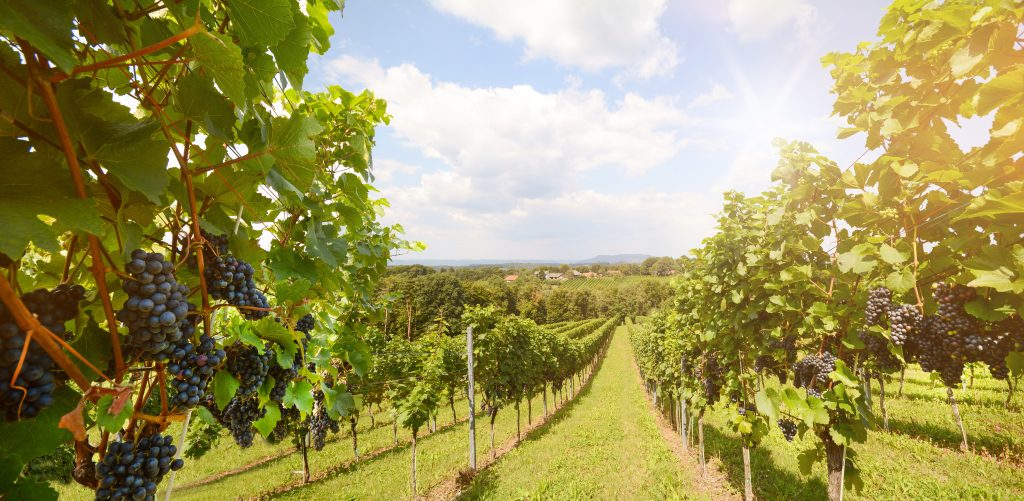 All the tiny town jokes would probably apply to Hye, Texas, a community in western Blanco County with a current population of about 150 souls. You know the ones: wide spot in the road, blink and you miss it, you are now entering AND leaving Hye. To dismiss this Hill Country village with these little witticisms would be doing a great disservice to Hye, however. Its history, and current place of distinction along the Texas Wine Trail, earns the tiny town of Hye more attention.
To be honest, the area didn't have a lot going on that makes it stand out historically before white settlers came to the area. The nearby Pedernales River attracted Native American tribes wandering through as a valuable water source, but the surrounding terrain wasn't immediately recognized as ideal for agricultural use, so the majority of them moved on. These uneventful but peaceful facts sum up the human side of history around what would become Hye until the middle of the 19th century.
Around the year 1860, German and English settlers started to settle the countryside around what would eventually become Hye. This location was on what was then called the Austin-Fredericksburg road, creating a flow of trade between the two growing cities (this road roughly traced the path we now know as US Highway 290). The waters of nearby Rocky Creek gave the area its first English name; some simply referred to it as "Rocky." Settlers would continue to trickle in to the region, building a small but somewhat disorganized community.
One of those settlers was Hiram G. Brown, who settled there in 1872. He built the first general store in the area, and established a post office there in 1886. Out of respect for his influence, his fellow townspeople agreed to call the town Hye, after Brown's nickname. He was also assigned the role of postmaster, a post he held until 1917. During that time, he built a larger building for his combination store and post office in 1904, in a town that now boasted a cotton gin, grist mill, and a blacksmith shop. Also during this time, Hye's population met and surpassed the 100 mark.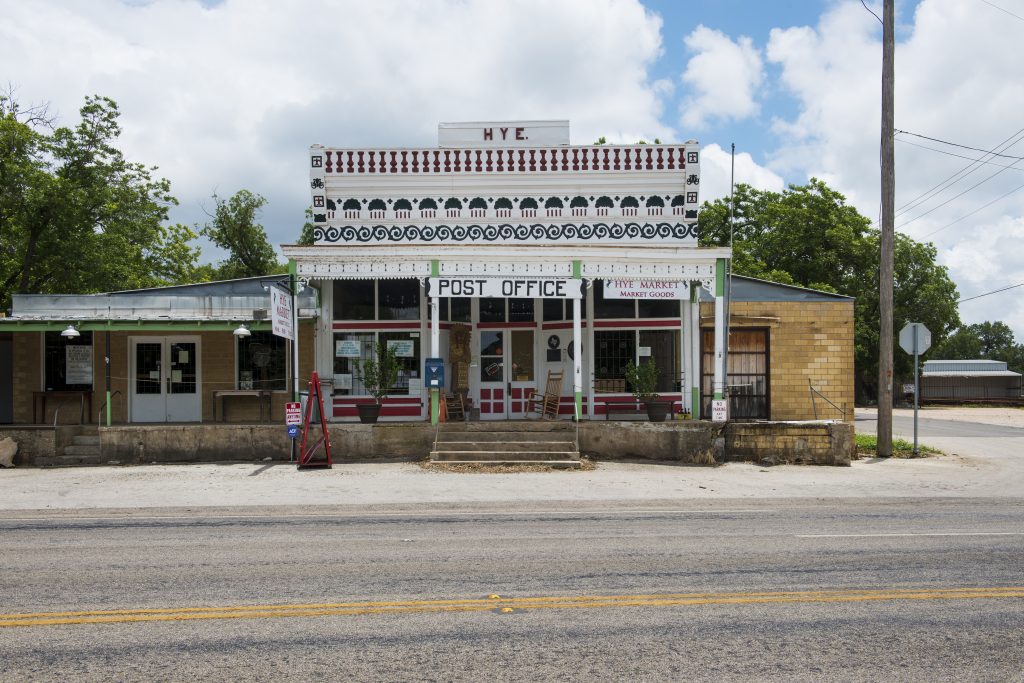 The new 1904 post office deserves a closer look. Somewhere around 1912, a four-year-old boy from nearby Johnson City mailed his very first letter through the Hye post office. Perhaps this would have passed into history without note, but years later that young boy grew up to be the 36th President of the United States. Lyndon B. Johnson honored that long-ago memory by swearing in Lawrence F. O'Brien as Postmaster General on the front steps of the Hye post office in 1965. As a result, the general store and post office building was recognized as a Recorded Texas Historical Landmark in 1966.
Hye's population hovered between 50 and 110 between 1900 and the 1970s, quietly humming along as a peaceful Hill Country community, weathering challenges such at the Great Depression and World War II with the admirable American spirit. Around 1991, one of the most important economic developments to ever hit the region occurred, heavily influencing the area to this day.
It was in 1991 that the Texas Hill Country AVA was established. That stands for "American Viticultural Area," and in layman's terms that means it's prime land for vineyards. This nine million acre area includes Hye, and it has been a magnet for creative vintners ever since. In just a few short decades, over 80 wineries have been established along the US Highway 290 corridor between Fredericksburg and Johnson City; this stretch of vineyard-lined highway is now affectionately known as the Texas Wine Trail. Suffice it to say the wine industry has become a driving force in several Hill Country communities, including Hye.
We invite our friends all over the country to explore Hye and its neighboring towns in the Texas Hill Country! With that in mind, we've gathered regional business and attraction information for you. Scroll to the bottom of this page, and you'll find listings conveniently sorted by category for all the shops, parks, restaurants, and kid-friendly spots in and around Hye. It's an easy-to-use perk that will help maximize your Hill Country visit!
If you'd like to take a look at the other great towns in the Hill Country, we've thought of that, too! We've put dream vacations together in the area (we live and work here, and we love it), and all the expertise we've gathered since 2001 is yours with a FREE download of the Texas Hill Country Travel App! We've researched over a thousand local business and attractions, and it's all in the app, sorted by town and type. Hye's close to other Hill Country towns like Fredericksburg, Johnson City, and Stonewall, and you can learn more about all of them!
In our years as Hill Country property management professionals, we've learned from our neighbors, business people, vacation rental owners, and wonderful guests! The Texas Hill Country Travel App takes that knowledge and applies it to your unique vacation needs, from property listings to booking info, from check-in to heading back home, and app-exclusive perks! We'll even keep you up-to-date on special events in the area, like the two solar eclipses coming to the Hill Country.
This beautiful region of the Lone Star State is our home, and we love showing it off! We've arranged Hill Country getaways for everything from romantic escapes to big gatherings like weddings and reunions. Feel free to contact us; we'd love to help you fall in love with the Texas Hill Country just as we have.
Explore the Hill Country
The Backroads Reservations Hill Country Travel App

Bars

Horseback Riding

Kid Friendly

Museums

Parks

Restaurants

Wineries