LEAKEY, TEXAS: SWISS ALPS OF TEXAS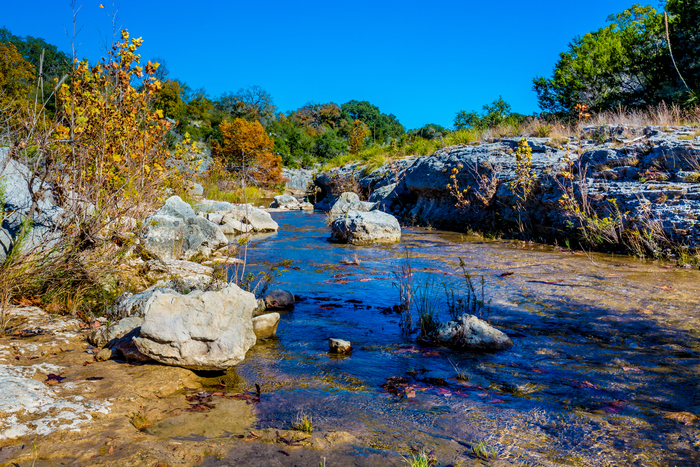 Find lodges, homes, cabins, and cottages available for the 2023 and 2024 eclipses on our Hill Country Eclipse Journey page. Download the Hill Country Travel App for the most up-to-date eclipse information, maps, videos, total darkness calculations, and more!
This Hill Country town of about 350 is the county seat of Real County. It's located in the canyon carved by the Frio River, and the mountains that bracket Leakey gave it its nickname of "The Swiss Alps of Texas." Leakey is surrounded by lofty cliffs and rolling hills that give the Hill Country its name, and it's also known for the natural springs that feed into the Frio River (these underground springs keep the river cool year round; in fact, "frio" is Spanish for "cold").
Native Americans settled in the area first, including the Lipan Apache, Comanche, and Tonkawa tribes. John H. Leakey, a pioneer from Tennessee, brought his family here in 1856. With the cypress trees lining the Frio, he built the first white settlement in the area, which in turn would carry his name. Initially, it was called Leakey Springs, after the cool springs that fill the Frio, but by the 1880s its name was shortened to simply Leakey (pronounced "LAY-kee," by the way, not like the word "leaky.").
For its first two decades, the tiny village was fairly primitive and isolated, and was subject to frequent Native American raids. These tapered off around 1883, the same year a post office was established in the town. Also in 1883, Leakey's first school was built on land donated by the Leakey family, and in 1884 the town was named the county seat of Edwards County.
No, that wasn't a typo; when Leakey was first settled, it was in Edwards County, which was created by the Texas State Legislature in 1858 from Bexar County land. Haden Harrison Edwards was a friend of Stephen Austin, and helped settle several communities from east Texas to the Hill Country; the county, Edwards Plateau, and the Edwards Aquifer are all named after him. Leakey remained the county seat of Edwards County until 1891, when government was moved to Rocksprings, which remains the county seat today.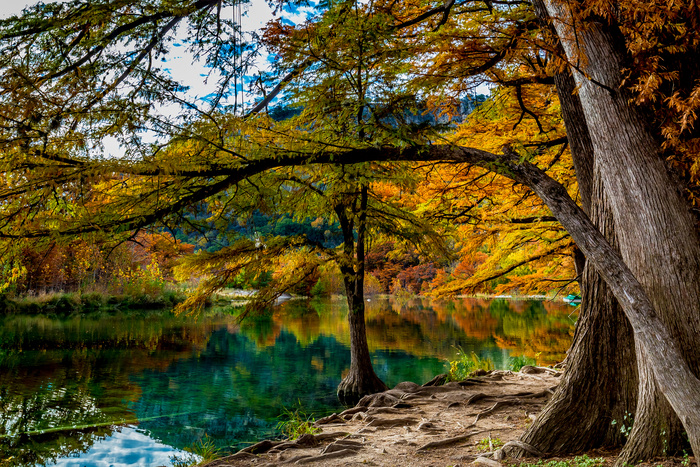 So how did Leakey become the county seat of Real County, and for that matter, how did the county come to exist? Again, it was the Texas State Legislature. In 1913, they created Real County from territory taken from Edwards, Bandera, and Kerr counties. Leakey was named the county seat, and the county itself was named after Julius Real, a former member of the Texas Senate. This designation involved creative legislation, since Leakey wasn't officially categorized as a town until 1951!
For decades, Leakey flourished and grew in part due to the lumber industry. The trees alongside the Frio were a great asset, and helped build several Hill Country structures. Unfortunately, the "replant as you cut" process used in the modern lumber industry didn't exist then, so lumber faded as a major industry in Leakey. The Hill Country is prime ranching land, however, and it became the chief economic strength of the town. In the late 19th and early 20th centuries, Leakey was known for the Angora goats raised on its ranches. We're sure their herds grazing the countryside enhanced its "Swiss Alps" nickname!
The mountainous terrain around Leakey makes it popular for touring the Hill Country, by car or motorcycle. One of the scenic highlights is a challenging motorcycle trail known as the "Twisted Sisters." It's named after the three winding roads that comprise it, and Leakey falls at its halfway point. The trail is open to adventurous sightseers year round, of course; it's all on public roads. While it offers some of the most spectacular views of the Hill Country, we like to caution our guests that some of its twists and turns can be challenging, even for experienced riders. For more detailed information on the Twisted Sisters Motorcycle Trail, Ride Texas and Rider Magazine offer articles and reviews.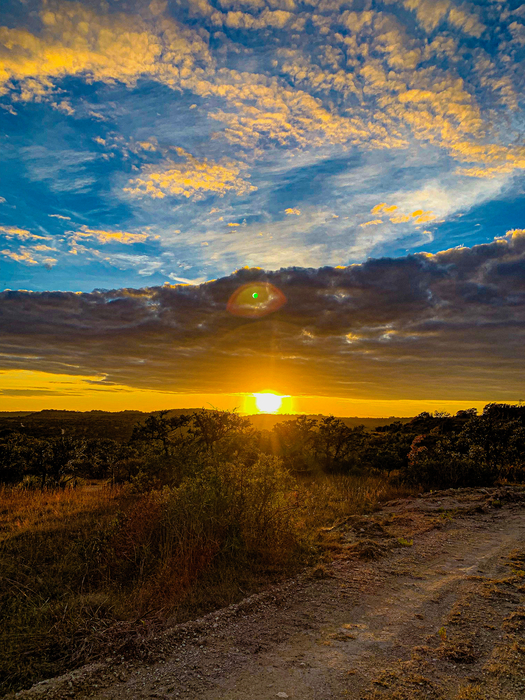 Want to learn more about Leakey? We've made it easy! Scroll to the bottom of this page for conveniently categorized listings of businesses and attractions in the area. We've researched and customized these listings to appeal specifically to guests who are new to Leakey. Follow this link to check out our fantastic vacation rentals in and near Leakey!
We didn't stop at Leakey, either! We've gathered information on well over a thousand restaurants, parks, shops, and nightlife spots in over a dozen towns in the Hill Country, and it's available to you with a quick and free download! The Texas Hill Country Travel App is the culmination of over twenty years of professional property management in the region. We've packed the app with our expertise, so you can explore and plan an incredible vacation getaway, no matter what part of the Hill Country you wish to visit. We've gotten great feedback from our incredible guests since 2001, and have taken it in mind as we crafted this app. It's packed with property listings and photo galleries, booking info and exclusive perks, check-in and check-out lists...everything you need to put together that perfect vacation. The download's completely free, and we won't share any of your data with anyone.
You'll want the app handy for the solar eclipse events coming to the Hill Country, too! On Saturday, October 14, 2023, there will be an annular "ring of fire" eclipse, and a full solar eclipse will take place on Monday, April 8, 2024. Leakey will be right in the prime path for both of these sky shows, and our app has an entire section dedicated to these events - we even have a sign up form for landowners to rent to RV travelers! Preparedness tips, viewing recommendations, and unique vacation rental booking opportunities will be just a click away, and only in our app!
Our philosophy when it comes the Hill Country is simple: we're in love with it, and we want to share that excitement with our guests! Let us know what you'd like: how many people you'll have along on your adventure, what amenities you'd prefer, what location appeals most to you, and we'll scour our selection of amazing vacation homes to create a fantastic getaway. There's nobody in the area more knowledgeable than Backroads Reservations STR management, hands down. Take a look at this link for vacation rentals available in Leakey, and touch base with us for the rest!
Explore the Hill Country
The Backroads Reservations Hill Country Travel App

Museums

Restaurants

Bars

Kid Friendly

Wineries

Gifts

Parks

Stores