BOERNE, TEXAS: THE HILL COUNTRY GATEWAY
Make sure to check out our great Boerne Texas vacation rentals!
Before we dig in to the historical aspects and attractions of this Hill Country town, let's address the elephant in the room: Boerne is one of the toughest town names to pronounce in the whole state of Texas. If you pronounce it "born" or "borny," you're likely to get a raised eyebrow or two in response. It's bur-NEE, like the name "Bernie," only with the accent on the second syllable. There! Now you sound like a native!
Boerne, the county seat of Kendall County, was founded in the late 1840s by German immigrants. It was originally called Tusculum, after the mansion of the Roman Emperor Cicero. When it was officially laid out by John James and Gustav Thiessen in 1852, the town's official name was changed to honor noted German political writer and satirist Ludwig Borne, who had passed in 1837 (the slight discrepancy in spelling between Borne's last name and the town's name was due to its translation from German to English). In central Europe, word got out to a German immigration group called the Mainzer Adelsverein, and thanks to their influence, German and Prussian settlers flocked to the Hill Country by the thousands, giving towns like Boerne a major boost. For various administrative reasons, Boerne wasn't officially incorporated as a town until 1909.
As it grew, Boerne developed its share of prosperous ranches, a similar pattern of growth followed by many of its fellow communities in the Hill Country. However, the town got more of a reputation in the late 19th and early 20th centuries as a health resort, with the waters of Cibolo Creek and the nearby Guadalupe River being touted for their restorative properties. In the late 1800s and early 1900s, Boerne was home to recovery hospitals and sanitariums dedicated to the well-being of those suffering from such ailments as tuberculosis, pulmonary issues, and other ailments. This is an industry that thrived and defined Boerne to many outsiders for about 50 years.
The impact of the Great Depression all but eliminated the health-tourist trade, sadly; funding was cut severely, if not eliminated altogether, and long-distance travel for patients became more restrictive. Despite those setbacks, Boerne stayed strong, and has since become somewhat of a "bedroom town" for the nearby city of San Antonio. With that said, however, the town has consistently embraced and celebrated its German heritage, with a strong civic and historical identity of its own!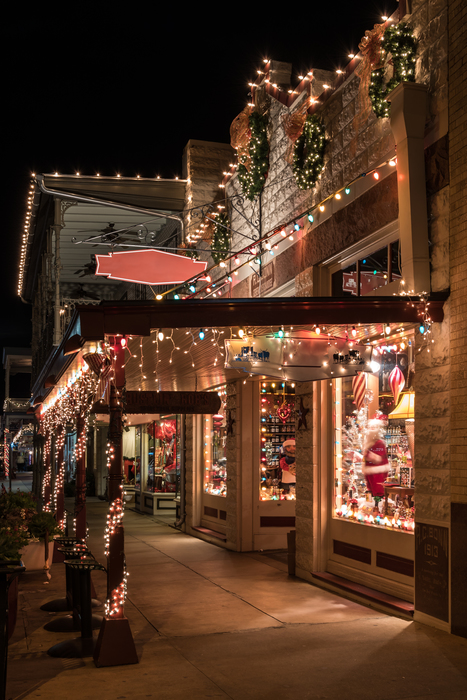 Since the mid-20th century, tourism and other industries in Boerne have rebounded, and for good reason: this community of almost 17,000 has a lot of European influence and local down-home Texas history and personality to offer its visitors and would-be residents. They're known for their Hill Country Mile, an eclectic shopping district that offers everything from antiques to boutiques to cuisine styles from all over the world. Special events in Boerne include a traditional Oktoberfest celebration, and a magical Dickens-inspired Christmas festival!
While the health resorts on the banks of Cibolo Creek and the Guadalupe River have long since gone away, there's still plenty to do in and on its waters! There are still ways to indulge your desire for adventure, and restore your sense of well-being, from Hill Country scenic drives, to river activities like tubing, kayaking, and canoeing to fishing and swimming. There are numerous attractions and put-in spots on the river for your enjoyment. Boerne presents a myriad of ways to enjoy water-based fun on the Cibolo and the Guadalupe!
For a more detailed look at the attractions, parks, shops, nightlife, and restaurants of the Boerne area, take a gander at the bottom of this very page! We've gathered helpful information, and have provided dozens of links, arranged by categories that apply to your specific interests, of everything this historic Hill Country town has in store!
If you'd like an even more expanded look at the Hill Country, we invite you to download and enjoy our Texas Hill Country Travel App. We've put together hundreds of business and attraction listings for the region, sorted by town and category, including up-to-date information on events taking place during your Hill Country visit! You'll also have exclusive access to maps, booking information and assistance, and special check-in perks you'll only find on the app.
With special Hill Country events in mind, we'd like to point out that Boerne will be in the "target zone" for two upcoming solar eclipses! On Saturday, October 14, 2023, there will be an annular "ring of fire" eclipse, and a full solar eclipse will take place on Monday, April 8, 2024. You'll really want our app on hand for these sky shows; with tons of information, preparedness tips, viewing recommendations, and special eclipse event booking opportunities you'll only find through us and our app. Do you own land to rent for RV parking during the eclipses? Submit you information and we will contact you!
Here at Backroads Reservations, we've carefully built a reputation as the most experienced and knowledgeable Hill Country short-term vacation management professionals. We've done it one treasured visitor at a time, helping them put together dream vacations for anywhere from two people to two dozen! We're proud to live right here in the Hill Country, and we'd love to find you a vacation home that helps you fall in love with the region, too. For those of you with your sights set on Boerne, we invite you to contact us for fun and affordable vacation rentals we have in this awesome Hill Country town!
Explore the Hill Country
The Backroads Reservations Hill Country Travel App

Antiques

Shopping

Museums

Restaurants

Bars

Horseback Riding

Kid Friendly

Wineries

Gifts

Parks

Stores