MEDINA, TEXAS: THE APPLE OF THE HILL COUNTRY'S EYE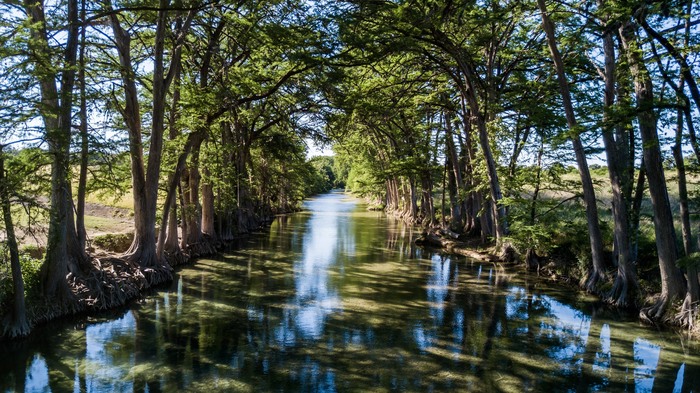 Take a look at the great vacation rentals Backroads Reservations has to offer!
New York state has its sprawling, bustling, never-sleeping Big Apple, and states like Washington and Michigan have reputations based on the quantity and quality of the apples they produce. The Texas Hill Country is a more laid-back atmosphere, and its apple-related claim to fame may be more modest than some of those bigger places. Nonetheless, the town of Medina (pronounced muh-DEE-nuh) in Bandera County is proud of their status as the apple of Texas' eye!
You can't discuss the town of Medina, or Bandera County, without mentioning the river that flows through this section of the Hill Country. For centuries, Native Americans settled along the river; it was a critical water source for drinking and farming, and an additional food source of game that came to drink and graze. When Spanish explorer Alonso de Leon explored the area in the late 17th century, he named the river after his cartographer, Padro de Medina. The Medina River has played an important role in all the lives in the region since then, including commerce and recreation.
European settlers were attracted here during the mid-1800s, and the tiny village named after the Medina River slowly grew, though not quite at the pace of nearby towns like Bandera or the burgeoning city of San Antonio. By the time a sawmill was built in Medina in 1865, there were fewer than 100 people calling the settlement home. Like so many of its neighboring Hill Country communities, Medina thrived mostly on ranching and farming during it first decades.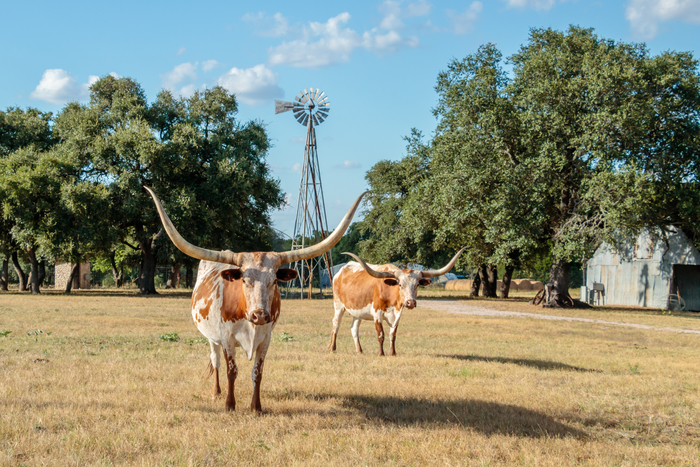 Medina earned a sense of authenticity of sorts in 1880, when a post office was established there. This development drew new settlers, and by 1914 the town's population had swelled to a respectable 400. Small town essentials like general stores, churches, a bank, and saloons, all became part of daily life in Medina during this period of growth.
All was well until the Great Depression of the 1930s; Medina was affected by the global economic downturn. The little Hill Country town's population dwindled to 250 people by the end of the decade, mostly due to those seeking employment in more prosperous cities. As Medina, and the world, found more financial stability over the following decade, the former's population recovered to nearly its current population of about 500. Ranching, farming, and hunting drove Medina's economy, until the town found its biggest claim to fame in the 1980s.
An enterprising gentleman named Baxter Adams, Jr. planted an orchard of dwarf apple trees in 1980, and those trees bore fruit four years later. And what amazing fruit it was! Though the trees were smaller than usual, they produced full-sized apples that were almost half again as sweet as those grown on larger trees. This proved not only a delicious development, but one that maximized the efficiency of the land used. Adams' orchard expanded to over 300,000 trees in the Medina area by 1990. As a result of this explosive success, the Texas Department of Agriculture named Medina the "Apple Capital of Texas" in 1989. The varieties of apples grown on those trees to this day include Granny Smith, Fuji, Jonagold, Pink Lady and Gala. Medina celebrated its innovation in the apple-growing industry with its International Apple Festival, which was traditionally held in late July each year.
Sadly, the International Apple Festival is no longer held, but the spirit of celebration is still alive at Love Creek Orchards. They served as one of the main vendors for the festival, and continue to celebrate on their grounds. During the spring and summer, you can pick your own blackberries, peaches, figs, and, of course, apples. Love Creek includes the Patio Cafe, where you can grab a delicious bite to eat, and souvenirs and fresh-baked favorites are available at the Apple Store (sorry, folks, no iPhones are sold here).
Take a look at the bottom of this page if you're planning a visit to Medina! We've listed all the all the businesses and attractions of interest in the area, arranged by category, It's a great resource to customize and maximize your Hill Country vacation!
With that in mind, we invite you to expand your horizons! The Hill Country has several towns loaded with fun and adventurous possibilities, and we've put all that information in one place. It's called the Texas Hill Country Travel App, which offers our culminated experience of over 20 years of experience as property management professionals in the Hill Country. In that time, we've developed relationships with business owners, property owners, and visitors to the area, so we're specially qualified to bring guests and hosts together! Our app is a totally free download, and we don't share any data with third parties. In it, you'll find info customized to your specific needs, including property listings, photo galleries, events listings, check-in and check-out info, and app-exclusive perks.
At Backroads Reservations, we live in and love the Hill Country! The unique beauty of, and vacation opportunities in, our neck of the woods, are what drive us. It's our great pleasure to expose new visitors to the region, and to welcome back old friends! We love matching your specific needs and interests to the perfect vacation home! Get started by taking a look at the rentals we have available around Medina on our Hill Country vacation rentals page then contact us, so we can pave the road to an amazing getaway!
Explore the Hill Country
The Backroads Reservations Hill Country Travel App

Restaurants

Kid Friendly

Gifts

Parks

Stores