Check out our nearby cabins and vacation homes by downloading our Texas Hill Country Mobile app.
Though technically part of the Guadalupe River State Park, the Honey Creek State Natural Area really is its own separate entity. With that said, we believe it deserves its own entry in our look at the Hill Country parks...and lo and behold, here it is! (For more information on the Guadalupe River State Park, please take a look at our detailed overview of it at this link .)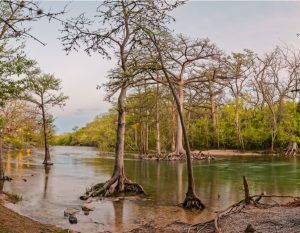 Honey Creek itself is a tributary of the Guadalupe River, and the state natural area named after it is comprised of almost 2,300 acres in western Comal County in the eastern section of the Hill Country. State parks in Texas are showcases of the Lone Star State's natural beauty, and they have been further developed for the recreation and enjoyment for those who visit. In contrast, state natural areas have a slightly different focus; their chief reason for existence is the preservation and appreciation of the nature and history of the area in as pristine a state as possible. Look at natural areas as outdoor museums and natural exhibits.
The web page for Honey Creek invites visitors to "imagine the Hill Country of 100 years ago," but there's much more history to see here. As a more extreme example, there are fossilized remains embedded in the limestone along the park's trail, some of which date back as long as 125 million years. At that time in earth's history, the Hill Country was more sea country; the entire region was underwater. As testament to this, the fossils you'll see here (there are more on display at Guadalupe River State Park, too) are the remains of aquatic creatures who made this their watery home.
Closer to home time-wise, primitive tools and artifacts have been recovered from the grounds of the natural area, which reflect the presence of both ancient hunter-gatherers and, later, more organized Native American tribes. Starting in the 1860s, European immigrants—the majority of who came from Germany—settled in the region, establishing ranches and industries that are still influential in the area today. The Rust House in Guadalupe River State Park is representative of the homesteads that were built here in the late 19 th and early 20 th centuries. The Rust family settled here in 1910, and their home has been faithfully restored to appear as it did when they worked the land.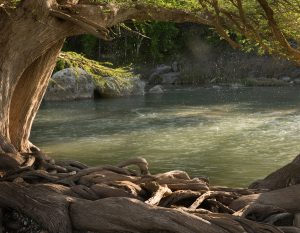 The natural area is ecologically preserved so it looks just as it did when those immigrants came to live here all those years ago. Just at it was back then, it's home to a wide array of plant and wildlife that make the Texas Hill Country the beautiful place it is. Cypress trees and ferns line the banks of the creek, since they need to be close to water to flourish, and farther out you'll find live oaks, cedar elms, and Spanish oaks, among plenty of other flora home to the Lone Star State. Animals such as deer, armadillos, and wild turkey regularly roam the grounds, and numerous species of birds and fish roost and swim here, as well. Some of the more rare and unusual species that call the Honey Creek area home are the Guadalupe bass (which is Texas' state fish), the endangered golden-cheeked warbler, and the Honey Creek Cave salamander—a true local species!
Though it might initially sound counter to nature, there are controlled fires set in parts of the natural area every few years. This is actually done in order to keep the ecosystem in line with its natural history. Biological studies and historical documents both show that man-made and natural fires (such as those started by lightning strikes) were actually quite common in this region, and have played an important role in what the Honey Creek region has become. Fire returns nutrients to the soil that have been leached out by heavy rains, wind erosion and baking heat, and the new plant life that grows in those nutrients in turn attracts wildlife who come here to feed. Over hundreds of years, the flora and fauna here have adapted and grown accustomed to the effects of occasional fires, and the folks who oversee the area strive to keep the pattern intact. When you enter the Honey Creek State Natural Area, keep an eye out; on the right-hand side of the trail is where the fires have been used. The left side of the path is more or less left alone.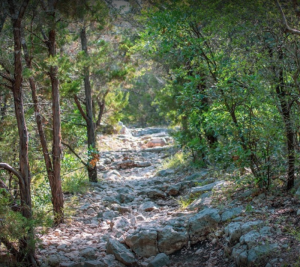 Visitors are only allowed in the natural area during ranger-guided walking tours. These nature hikes are held at least once a week; the detailed schedule is available on their Events Page. During these two-mile tours, you'll hear expert narration on all aspects of the history of the region: geological, wildlife, and human settlement. Please be aware these walking tours can last anywhere from two to two-and-a-half hours, and there are no restrooms along the trail. It's strongly recommended for guests to bring along their own drinking water during the tours. Kids of all ages are welcome here, but pets are not allowed in the natural area.
As Texas Hill Country's online magazine puts it, Honey Creek State Natural Area offers visitors a rare and untouched look at Texas' natural state. Bring your camera along; it's a beautiful place, and you'll want to capture the unique and pristine nature on display here. When you plan a trip to Honey Creek State Natural Area, make it a point to get a hold of us here at Backroads Reservations ! We know the region inside and out, and we're uniquely qualified to find you an amazing vacation rental. Let us know how many people you'd like to bring along, and the amenities and comforts you'd like to enjoy, and we'll help you put together a home run of a Hill Country hideaway!
The Honey Creek State Natural Area is located at 3350 Park Road 31, Spring Branch, Texas 78070, and their phone number is (830) 438-2656. The address and phone number are those of the Guadalupe River State Park; entry to Honey Creek is only available to visitors through Guadalupe River. Tours of the natural area are scheduled at least once weekly; check their Events Page for specifics. Admission to the state park for adults 13 and over is $7.00; children 12 and under are admitted for free. There is no additional charge for the walking tours of the natural area, but donations are accepted. Plan on two to two-and-a-half hours for the walking tour. Bring your own drinking water; there are no restrooms or water facilities on the tour trail. Pets are not allowed in the Honey Creek State Natural Area.
The Honey Creek State Natural Area is just one of the many fun and fascinating things to enjoy in the big and beautiful Texas Hill Country! Several historic and fun towns are close by, and for a taste of what's going on in those towns, we've compiled the following listings:
Bandera (40 miles west)
Boerne (17 miles southwest)
Castroville (53 miles south)
Comfort (32 miles northwest)
Fredericksburg (58 miles northwest)
Helotes (32 miles southwest)
Kerrville (50 miles northwest)
Medina (48 miles west)
Pipe Creek (31 miles southwest)
Seguin (47 miles southeast)
Tarpley (55 miles west)