Hill Country Colors: Leafer's Paradise!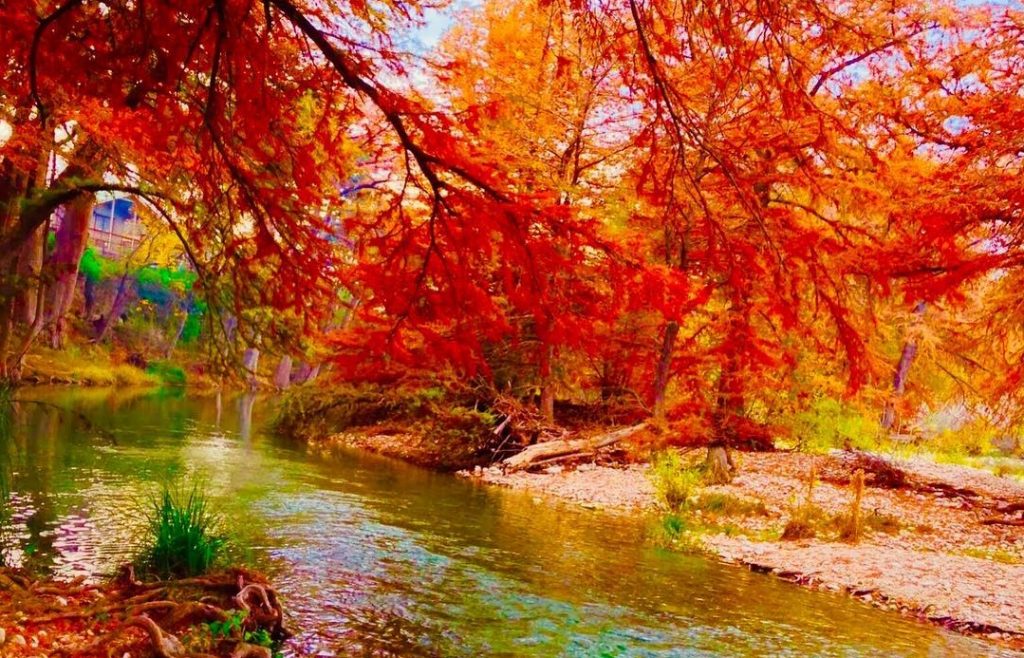 Chances are the average American thinks of New England when it comes to fall color, when the leaves turn from summery green to a rainbow of yellows, oranges, and reds. But our own beautiful Texas Hill Country puts on quite a show of its own! From roughly mid-October to mid-November, nature takes out her paintbrushes and carpets our hills and river valleys with brilliant colors that equal those of our neighbors to the northeast.
(Fall foliage color season in the Hill Country can vary from year to year, depending on weather and other factors. For example, in the Lost Maples State Natural Area in 2021 and 2022, color displays were reported as late as Thanksgiving. Conversely, some years the color show ended as early as November 15...which is why we give the general estimate.)
The Hill Country covers a large area, and depending on the source there are anywhere from 14,000 to 20,000 acres of land that are blanketed in color during the peak season. We have two major reasons our autumn foliage shows are so spectacular. First, our geography of majestic hills and deep valleys allows for elevated vantage points from which to view the shifting colors; and second, our climate supports some of the most beautiful trees for fall foliage, including maples, oaks, cypress, cottonwoods, sumacs, mesquite, persimmons...the list is virtually endless!
We've got state parks and natural areas that offer perfect fall color viewing locations, from the lofty granite dome of Enchanted Rock to the unique Uvalde bigtooth maples that populate the Lost Maples State Natural Area. There are also many roads that wind through the region, most of which have overlook points at the highest, and prettiest, viewing spots. Many observers highlight Ranch Road 337 between Camp Wood and Leakey, some going so far as to call it the most beautiful trip in Texas (it's also part of the fabled "Twisted Sisters" motorcycle trail).
The scenic rivers that flow through our region are a peaceful place to admire the colors, too, as you kayak or canoe under the trees standing sentinel on the banks (we don't recommend tubing, since the waters tend to be too chilly for that activity by October). Many of our parks have equestrian trails, where you can take in the vivid foliage on horseback, the way the pioneers did when they were settling in the Hill Country. Don't have a horse? Those same parks include hiking trails, where in trade for a little shoe leather you'll get one of the most colorful showcases of your life.
Here are a few tips to make the most out of your Hill Country fall colors visit:
Plan ahead! This is one of the busiest times of the year for Hill Country tourism. Whether you're planning a day trip or extended stay, be aware that lots of other folks are, too. Plan your lodging and park tickets ahead of time to avoid disappointment.
Don't trespass. With state parks and public roads at your disposal, you'll have plenty of legal leaf-viewing sites available. Don't enter private land without the owner's express permission.
Roads, parks, restaurants, stores, and nightlife venues may be crowded during fall color season. Exercise patience and courtesy with everyone from tourists to wait staff.
While you're admiring the local color, maximize your Hill Country experience with the Hill Country Travel App! The FREE download provides up-to-date information about over 20 towns, local businesses, events, and much more. It's available on both iPhone and Android!