Meet the Twisted Sisters!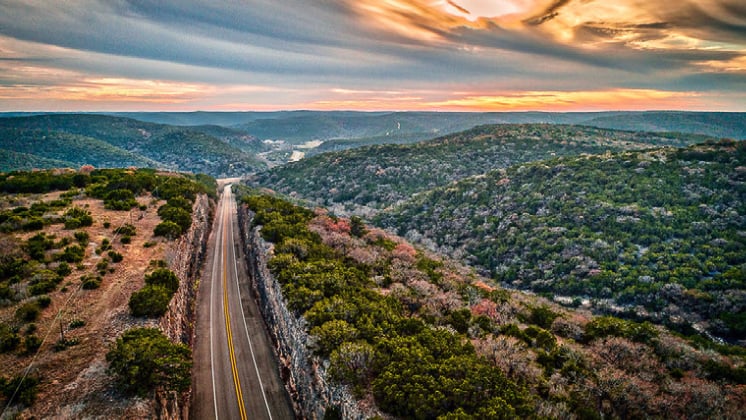 On occasion, we've encountered a little confusion about the Twisted Sisters in the Hill Country. There are folks who ask when the Twisted Sisters takes place, as if it's a unique event held at a specific time. Mind you, there are motorcycle rallies and festivals that take place on the Twisted Sisters, but we're here to clear the confusion: it's actually a scenic route through the Hill Country that bikers (or folks in cars, for that matter) can enjoy every day of the year!
The term "Twisted Sisters" refers to the three state highways that make up the majority of a big, sweeping loop that's nearly 200 miles: TX 335, TX 336, and TX 337. We're going to trace out the route of the Twisted Sisters by starting at Bandera, which is a traditional starting point for many riders. We'll trace it out in a clockwise direction. This is for ease of description on our part; you can start anywhere on the route and take in as much or as little as you'd like!
Starting in Bandera, you'll take a small section of Texas State Highway 16 about 13 miles west to Medina. (Depending on who you ask, this short section of the trail isn't "officially" part of the Twisted Sisters, and that Medina is the real starting point. We'll leave this point of contention to the experts!). Once in Medina, you'll pick up TX 337, and thread westward through Vanderpool and Leakey, until you reach Camp Wood. This 58-mile stretch of the trail is its longest. At Camp Wood, you turn north on TX State Highway 55, which will turn into TX 335 when you hit Barksdale four-and-a-half miles later. From Barksdale, TX 335 continues northward through Vance and Hackberry until it meets up with Texas State Highway 41; this stretch of the route is about 30 miles long. At the route's northwest corner, you'll head east on Texas State Highway 41 for about 14 miles, at which point you'll head south on TX 336 for 36 miles until you return to Leakey. If you'd like to come completely full-circle, you can go from Leakey eastward back to Bandera on TX 337 and Texas State Highway 16, a trek of about 50 more miles.
Whew! That's a full day of riding, at least; the route we've traced is just over 200 miles. Accounts of the trail online vary from 100 to 200 miles, depending on where you'd like to stop and start, and many riders like to split it up over a few days to take it all in. Keep in mind, too, you can take little "detours" to the Lost Maples State Natural Area, the Lone Star Motorcycle Museum, and restaurants, bars, and points of interest on and near the Twisted Sisters. Suffice it to say it's a picturesque way to soak up the beauty of a large swath of the Hill Country!
As beautiful as the Twisted Sisters trail is, we offer to our readers fair warning: many sections of the route are for experienced motorcycle riders. In their article about the trail, RideTexas.com points out there is a 15-mile section that contains no fewer than 65 curves. Rider Magazine online notes there are signs along the trail that designate challenging—and sometimes fatal—stretches of road. There are numerous tales of riders being caught by surprise by deer leaping into their field of vision. Keep in mind, too, this is ranching country, and the occasional cow or two has wandered into the path of oncoming cyclists!
With those facts in mind, we offer this caveat: by all means enjoy the amazing Hill Country views you'll find along the Twisted Sisters trail, but be fully aware of potential distractions and dangers. Wherever your travels may take you, the Hill Country Travel App provides a powerful resource for places of interest in the Hill Country! This FREE download provides up-to-date information about dozens of towns, local businesses, events, and much more. It's available on both iPhone and Android!