ROLLIN' ON THE RIVERS, HILL COUNTRY STYLE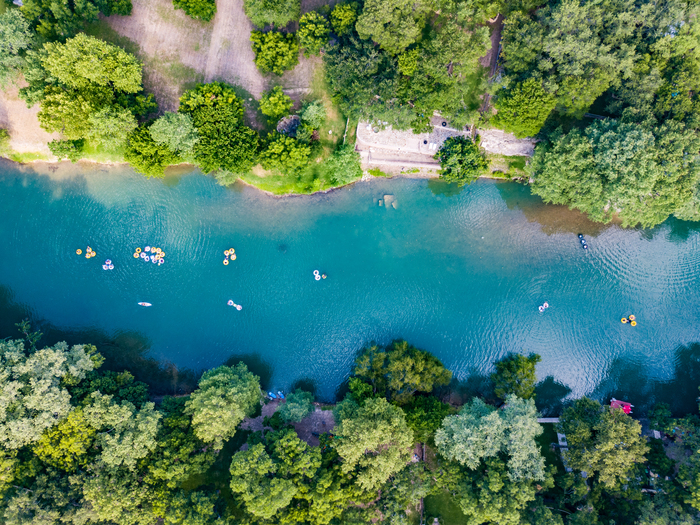 Explore over 20 Hill Country towns and rivers in our free travel app
Several beautiful rivers wind their way through the Texas Hill Country, and there's plenty to do both on their waters and along their shores for our guests! Here are some helpful ideas for what you can do on these winding waters, to maximize the adventure of your Hill Country river vacation. Backroads Reservations is happy to provide this list, by category of activity, for our visitors.
Tubing/Kayaking
There's no better way to socialize, relax, and enjoy the beauty of the Hill Country than a tube or kayak ride down the river. There are several businesses who are more than happy to provide everything you need for your Hill Country tubing or kayaking trip, complete with shuttles to drop you off at your start point; most places employ more than one drop-off point, depending on how long a period of time you'd like to spend on the river. The Comal, Frio, Guadalupe, Llano, Medina, and San Marcos rivers all house outfitters who offer tubing and kayaking services; if you Google the river's name and tubing or kayaking (for example, "Guadalupe River tube rentals"), you'll get all the information you need to get your trip started.
There are several things to keep in mind before you head out for your tubing or kayaking excursion. First, you should wear secure footwear (no flip-flops or loose sandals); rivers have rocky bottoms, most of which are either sharp or slippery—so be sure to protect your feet. Alcohol consumption is allowed on most Hill Country rivers, but check ahead if you plan on bringing it along, just in case. No matter what you do take on the river, glass and Styrofoam containers are not allowed, for both safety and ecological reasons. Finally, river depth and speed are important factors to consider; if the river is swollen and fast, it can present a challenge to younger visitors, and those who don't have good swimming skills. On the opposite side of that coin, if the river is shallow and slow-moving, there may be points during your trip where you'll have to stand up and walk. Businesses who provide tubing and kayaking services will be prepared to provide this information, so be sure to call ahead!
Swimming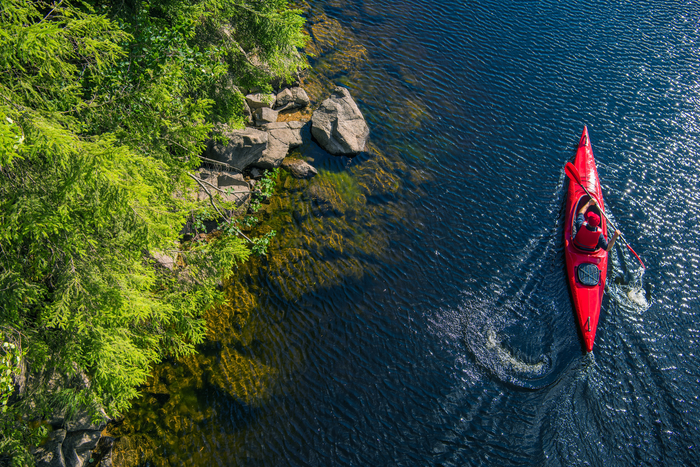 Especially during the summer months, it can get hot in the Hill Country! The rivers coursing through the area offer cool and welcome relief to the legendary Texas heat. Some of the most popular places to swim in the region are in the Frio River at Garner State Park, the Guadalupe River in Guadalupe River State Park, and South Llano River State Park on the Llano River. For a listing of even more popular natural swimming areas in the Hill Country region, Wide Open Country has a helpful article on the subject at this link.
No matter your choice of locale, before you go swimming, there are a few things to keep in mind. Many locations that allow swimming are supervised by lifeguards, but not all of them. If any member of your group has questionable swimming skills, keep a close eye on them, even if supervision is provided at the location. Wind, water depth, bacteria levels, and weather factors can force closures of swimming locations with little to no notice; if any of these influences seem to be in question, call ahead to make sure.
Fishing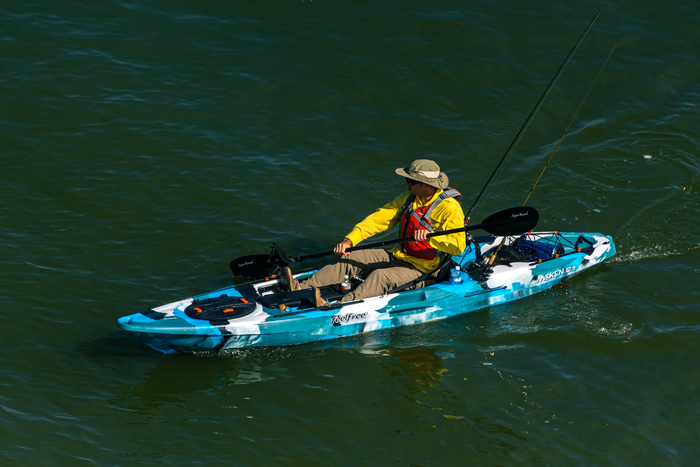 Whether you're passionate about fishing, or you just need an excuse to "look busy" while you sneak in a nap on the shore, the Hill Country has numerous excellent fishing spots! The state of Texas provides places where you can fish without a license in their state parks and natural areas, such as Lost Maples State Natural Area on the Sabinal River, the Guadalupe River State Park on the Guadalupe, and Garner State Park on the Frio. Texas Hill Country offers this listing of other popular and productive fishing spots in the Hill Country region.
Keep in mind that, outside of Texas state parks and natural areas, you must have a valid and current fishing license before dropping a hook in the water; failing to do so could result in fines up to $500. The Texas Parks and Wildlife Department has an entire section of their web page devoted to the details of fishing in the Lone Star State. Here, you will find detailed and comprehensive explanations of fishing regulations, and where in the parks and natural areas system you can freely fish.
Sightseeing
No matter where you go in the Texas Hill Country, you're not far from a beautiful view! Wildlife and colorful plant life all abound along the shores of the rivers here, and you can bird-watch, hike, and selfie your heart out no matter where you turn. Two of the most notable riverside vantage points in the area are Mount Old Baldy in Garner State Park and the cliffs lining the Frio River surrounding the town of Leakey—which earned the nickname "The Swiss Alps of Texas" for its lofty vistas.
If you think fall colors are something you need to travel to New England to see, your visit to the Hill Country during the fall months will convince you otherwise! The densely-forested Hill Country puts on a breathtaking display from mid-October to mid-November each year, with blazing leaf colors that are spectacularly reflected in the rushing waters of the area rivers.
As a final note, please make it a point to enjoy and admire the Hill Country on land that's made readily available to the visiting public. Please don't trespass on private property without express permission from the owner. There's nothing like the sound of a flowing river, which can be both relaxing and exhilarating at the same time.
So many memories can be made, and so much pleasure and satisfaction can be drawn from, a visit to the Texas Hill Country rivers. Let us find you a unique and affordable guest house or cabin for your Hill Country river getaway; no matter the size of your group or their interests, we can help you plan the most memorable weekend or vacation possible. Backroads Reservations will be happy to welcome you to our beautiful backyard, again and again!