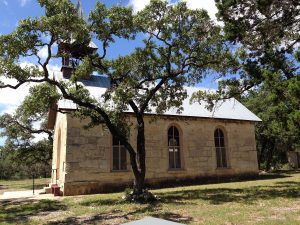 The term "ghost town" often conjures images of dilapidated and abandoned buildings, a forlorn and forgotten representation of a slice of time from which society has moved on. In that context, it seems a shame to apply that somewhat sad term to the historic town of Polly, Texas. This gone-but-certainly-not-forgotten little village is locally respected, revered, and (at least partially) renovated. It's in that spirit that we'd like to present Polly's story.
First, let's clarify a point the uninitiated tend to assume, that Polly itself was named after a woman; it's a lady's name after all, right? Well, let's put that assumption to bed right now. The town's name comes from a legendary Army scout, surveyor, frontiersman, road designer, Texas Ranger, justice of the peace, Methodist minister, and rancher Jose Policarpio "Polly" Rodriguez. With his influence, and the imprint this accomplished Tejano's deeds made on the history of the Hill Country, it's a small wonder he got a town named after him!
"Polly" Rodriguez was serving as an Army scout in 1858 when he was tasked with the recovery of escaped camels from nearby Camp Verde. (Camels? you ask. Yup. The Army, at the time under the leadership of Robert E. Lee, was testing the desert-hardy creatures as possible pack animals for the military. For various reasons, this experiment was abandoned fairly quickly.) Anyway, while roaming the countryside while rounding up the wandering humpbacks, Rodriguez discovered the valley of Privilege Creek in what we now know as the Texas Hill Country.
As he surveyed the lush valley laid out before him, Rodriguez saw the creek was lined with beautiful (and valuable) cypress, oak, and cedar trees, and the area was lively with abundant game. The land's potential to become a thriving settlement was instantly apparent to him, and over time he would buy thousands of acres of land, which he would in turn offer to settlers seeking a productive piece of land on which to homestead. He set up his own home and ranch there, and would call it home for the rest of his life. Rodriguez recruited dozens of Tejano families to settle there, and many of the region's modern citizens are descendants of these families. In honor of their benefactor, the town was named Polly (academically, it was called the "J.P. Rodriguez Settlement," but was only referred to as such in official documents of the time).
In the latter half of the 1800s, the Hill Country bloomed, with towns like Bandera (nine miles southwest of Polly) and Pipe Creek (eight miles northeast) growing right along with Polly. In 1882, Polly's Chapel, a Methodist church built of limestone with local trees used for its frame and roofing, was erected, and the town was awarded a post office in 1888. By the mid-1890s, Polly had a general store and schoolhouse, as well, and its population crossed the 300 mark. The region was renowned for its ranching of sheep, mustangs, and Longhorn cattle.
Unfortunately, as the 20th century opened, the slow dissolution of Polly began to take place. Its post office closed in 1912, and church services and school classes were transferred to nearby Bandera (the latter bit by bit, with the Polly school becoming fully consolidated with Bandera in 1942). Many locals mark the "beginning of the end" for the town of Polly on the event of "Polly" Rodriguez' death in 1914, at the age of 85. His grave can be visited in the Polly cemetery, where he was laid to rest in the heart of the town he built and loved.
The modern remnants of Polly are carefully and reverently overseen by the Polly, Texas Pioneer Association, whose website can be visited at https://www.pollytexaspioneerassociation.org. Polly's Chapel, which became a Texas Historical Landmark in 1986, is available for weddings and special events, and the schoolhouse is currently under renovation. For booking information for Polly's Chapel, contact Vivian Cantu at (210) 892-0135. For information on Polly's Cemetery, call (210) 364-7096.
Have you visited Polly, Texas? Share your experiences below! Also, let us know if you've been to other "forgotten" areas of the Texas Hill Country. And download our free app, the Texas Hill Country Travel App and explore parks, restaurants, shops, and kid-friendly sites in over a dozen towns in the Hill Country! It's a free download, and we don't share your data with third parties, ever. What's more, you'll have access to great vacation home listings, photo galleries, maps, booking assistance, and special check-in access and perks only available in the app. There's also a helpful comprehensive listing of upcoming special events throughout the region!