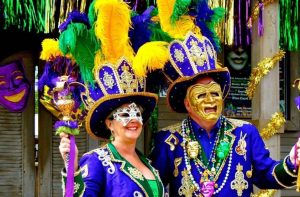 Find this and other local events all around the area in our Hill Country Travel App!
The Mardi Gras celebration has always been a kind of "last fling" before the more somber period of Lent between February and Easter Sunday. It's a chance for folks to let their hair down, and the phrase conjures images of beads, colorful floats, whimsical costumes, Cajun cooking, and, of course, carousing.
The American epicenter of the Mardi Gras tradition has always been New Orleans, and they've celebrated it in traditional French fashion since at least 1837. Though no one could ever take the Fat Tuesday crown from the Big Easy, Bandera has adopted the Mardi Gras theme, and has given it a Lone Star State twist: The Cowboy Mardi Gras!
That's right: there's no need to plan a trek to Louisiana in February to celebrate Mardi Gras, when there's a rollicking festival right here in the Hill Country! Bandera is known as the Cowboy Capital of the World, and since the early 2000s they've infused some Wild West elements into the celebrations we've all come to know and love. Over the years, it's garnered a fun reputation and has grown in popularity, and it's now one of the biggest visitor attractions of the year, drawing over 15,000 celebrants to this town of 839!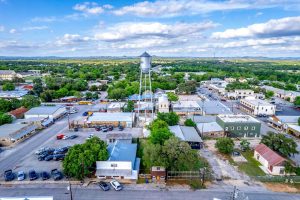 The whole show is put on with cowboy and Cajun flair by Bandera's 11th Street Cowboy Bar, the biggest little honky-tonk in Texas! Visitors can expect the traditional Mardi Gras colors of green, purple, and gold, as well as Zydeco music, fantastic and fiery Cajun cuisine, an enormous parade, and yup...even beads.
In addition to all that spectacle, though, you'll also see as many cowboy hats as jester hats, and you'll hear Country and Western music right along with Zydeco. Many of the parade participants will be on horseback, and there will be a touch of Texas spice in the gumbo, too! It's a fun and unique cultural blend you won't find in any other Mardi Gras festivities.
There's one aspect of the New Orleans Mardi Gras and Carnivale atmosphere you won't find at the Cowboy Mardi Gras, though. For parents concerned about Bourbon Street debauchery and some of the more, ahem, adult goings-on you might encounter in the Crescent City during Mardi Gras, Bandera's cowboy version is designed to be more family-friendly, with games and attractions that are much more kid-friendly. It's a comfortable and welcoming gathering for everyone!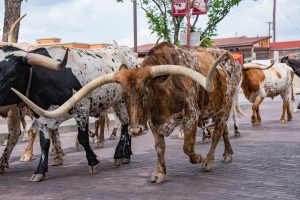 Highlights of the Cowboy Mardi Gras include the parade on Bandera's Main Street on Saturday, and live entertainment at the 11th Street Cowboy Bar each night of the festival. Food fans will love the World Championship Gumbo Cook Off, and all are invited to take part in the Cowboy Mardi Gras Costume Contest!
Celebrate the Cajun and Cowboy fusion of Bandera's Cowboy Mardi Gras! The celebration is held in early February of each year. Informational inquiries can be directed to the 11th Street Cowboy Bar at (830) 796-4849, and event and ticket information are available on their website. Tickets are available for individual nights, or for the entire weekend.
The 11th Street Cowboy Bar is proud to support the most talented musicians, and to attract the most exciting events to the Cowboy Capital of the World! Keep up-to-date with all their upcoming events and concerts with a free download of the Texas Hill Country Travel App!