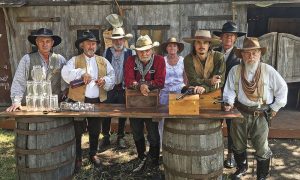 Word on the streets is that there have been some bad hombres slinkin' around and causin' mischief in these here parts! Sure enough, the local law's caught word of it, too, and they're lookin' for a showdown.
If my guess is right, it looks like things are gonna come to a head at Rattlesnake Ridge. Hide the little ones and women folk!
Shootouts between the good guys and the not-so-good guys were a very real part of the Wild West, one of the more exciting facets of our rough-and-tumble pioneer heritage. Bandera, Texas can stake a genuine claim to its role in cowboy history; it was the focal point of some of the biggest cattle drives in the nation, and many of its current residents are descendants of the rugged cowboys who took part in them.
As a result, Bandera is known as the Cowboy Capital of the World, and its nickname is well-earned! A visit here just wouldn't be complete without a Wild West gunfight between John Law and the guys in black hats. Bandera delivers in true cowboy style with the shootouts that are the highlight of Cowboys on Main. Have no fear, though; at these gunfights, the little ones and women folk are completely safe and welcome...as is everyone!
Cowboys on Main is a long-running tradition in Bandera, and a visitors' favorite here, a rootin' tootin' authentic cowboy event held in the heart of town every Saturday from 10 AM to 2 PM. Rascally outlaws and virtuous lawmen face off on "Rattlesnake Ridge" (just behind the Bandera Convention and Visitors Bureau), at 126 Texas Highway 16 in downtown Bandera. These carefully staged and entertaining gunfights break out at 11 AM and 1 PM.
The proud presenters of this Hill Country Cowboy Capital tradition are the modern-day cowboys of the Bandera Cattle Company Gunfighters, They're careful to present the Rattlesnake Ridge gunfights with attention to authentic detail, crowd safety, and, most importantly, rollicking fun! The little buckaroos will get a chance to mingle with the cowboys and learn about their colorful history, gun safety, and more. To say the young ones love it would be an understatement; it's wonderful to watch their eyes light up in the company of genuine cowboys!
There's more to Cowboys on Main beyond the gunfights, too! Folks can also listen to storytellers who love to share their tales of the Wild West. Kids can get their picture taken on the back of Redneck the Longhorn, and all are welcome to take a ride around the town square on Ron Dakota's horse-drawn wagon. This weekly event embodies the spirit of what makes Bandera the Cowboy Capital of the World!
Cowboys on Main takes place every Saturday, weather permitting; this is an outdoor event, after all! For more information, contact Cindy Beckham at the Bandera Business Association at (210) 218-7935.
Have you experienced Cowboys on Main in the past? Please feel free to share your Bandera cowboy adventures in the comments!