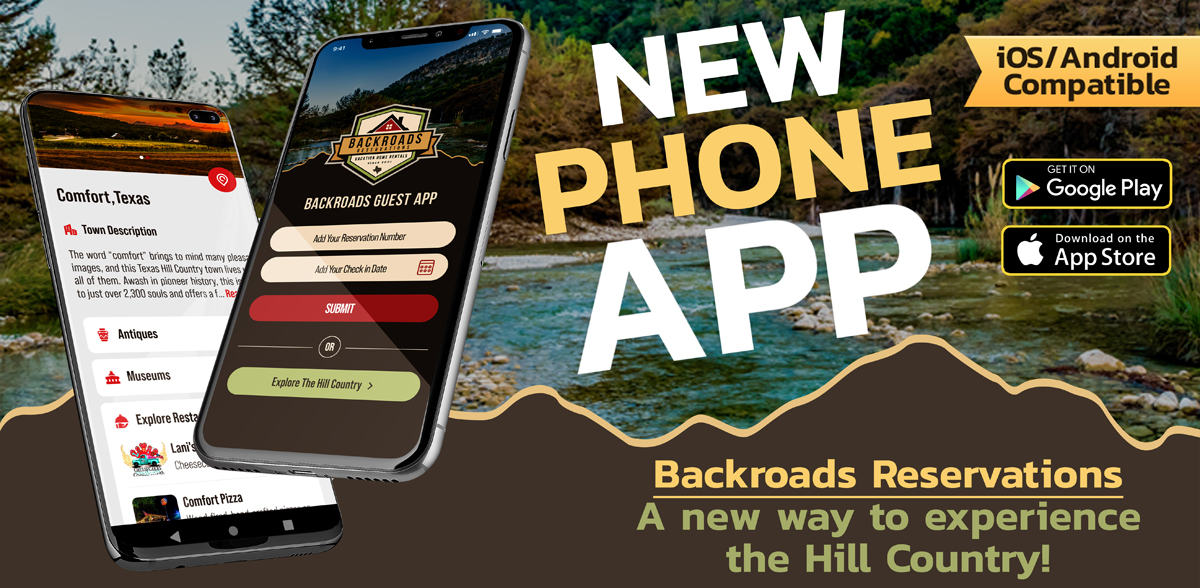 Property Type : Bed And Breakfast | Guest House
Property Description
If you're interested in visiting the Cowboy Capital of the World, or would like to check out the stunning views of the surrounding Hill Country, the Cedar Loft at the Last Outpost is your Bandera accommodation that's perfect for a great vacation in Texas! It's secluded, quiet, and comfortable, with access to several Hill Country towns all within a short drive. From a complimentary continental breakfast to the colorful mountain sunsets here, your days will be filled with adventure and beauty.
Large game ranches surround this wonderful cabin, so you can literally watch the buffalo roam! Within a half hour's drive of the Last Outpost-Cedar Loft are tubing on the Medina and Guadalupe Rivers, the pristine natural beauty of the Hill Country State Natural Area, and the shops and attractions of Bandera, Kerrville, and Medina.
Continental breakfast items and beverages will be stocked in the mini fridge for your convenience. Savor your breakfast-and the spectacular views-from the front porch, and enjoy conversation with other snacks and meals you prepare throughout the day around the Chimenea, enjoy the fire pit, or cook on the charcoal grill.
Rustic and bright woodwork dresses the cabin, all decked out. Between the queen bed in the loft bedroom and the sleeper sofa, the space offers comfortable slumber for up to three. The stylish bathroom features a large shower, and all bed and bath linens needed for your stay are provided. The kitchen is furnished with a mini fridge (no freezer), stove top, microwave, and coffee pot. Window heating and AC keep the cabin climate-controlled year round, and there's a Regular TV with VCR and a DVD player and a CD-equipped stereo for your entertainment. Please be aware that due to the remote location, there is no Wifi service here, and cell coverage can be spotty at times.
The romantic and secluded Cedar Loft is an amazing get-away-from-it-all setting, yet it's still located close to neighboring towns and attractions. Your next Hill Country getaway gets started with a quick message to us at Backroads Reservations!
The Cabin
========
Queen bed in loft
Double sleeper sofa
Bath with shower
Kitchen with mini-fridge (no freezer), stovetop, microwave and regular coffee pot
Box unit air & heat
Amenities
========
Breakfast items left in cabin
Regular Coffee Pot
Regular TV with VCR
No WIFI and some cell carriers are spotty
Stereo with CD
Charcoal grill
Fire pit w/wood
Front porch with seating
Chimenea for small outdoor fires
Outdoor charcoal grill available
Mountain View
Wildlife Viewing
Million-dollar views from property
Rates and details
========
3 rental cabins on the property and the host lives on-site
Children allowed (must be at least 10 years)
Pets allowed (maximum 1 allowed)
Pet fee is $ 25/day, per pet
A pet fee discount may be available for longer term stays
No discharging of firearms, fireworks or ATVs allowed
Backroads reserves the right to increase the nightly rate and fees within 5 days of all local event announcements
Event and holiday weekends may have a three night minimum requirement
Hill Country river and lake water levels vary depending on rain
Approximate distance to the following sites:
========
Frio River: 60 miles
Medina River: 10 miles
Guadalupe River: 25 miles
Lost Maples State Natural Area: 40 miles
Garner State Park: 50 miles
Hill Country State Natural Area: 15 miles
Bandera
========
Welcome to the Cowboy Capital of the World! With museums, rodeos, horseback riding, motorcycle rallies, and boot-scootin' live music venues, Bandera's got it all for fans of the Hill Country and the Wild West! Celebrate this uniquely American heritage, and take some time for a trip down the scenic Medina River.
Backroads Reservations
Bandera, Texas
Ask us at Backroads Reservations about our Hill Country Travel App, the best resource for traveling to the Hill Country! Find thoroughly researched and up-to-date information about dozens of towns, local businesses, events, parks, scenic drives, eclipses, swimming holes, and much more. Now on the web and mobile!
Copyright 2023 - Backroads Reservations in Bandera, Texas. Hill Country Travel App is a trademark of Texas Backroads, LLC
Amenities
Guest House

Heating

Linens

Towels

Air Conditioning

Free Parking

Queen Size Bed

Bandera

Charcoal Grill

Autumn Foliage

Restaurants

Fridge

Kitchen

Microwave

Stove

Coffee Pot

Bird Watching

Photography

Walking

Mountain

Children Welcome

Smoking Not Allowed

Wheelchair Inaccessible

Romantic
What guests are saying...
My 13 year old and I can't stop talking about our experience! The owners of the property were super accommodating and allowed us to experience a taste of hill country for the weekend that exceeded every expectation. Our cabin was as good as advertised. A true escape from our suburban lifestyle. My son never touched his phone and neither did I (except to take pictures). We visited Bandera, Garner State Park and Lost Maple State Park. In the afternoons we visited the longhorns on the property. If you need some father and son time away from work and video games…..check this property out. We will definitely visit again.
This little cabin was just perfect for a secluded getaway. Everything we needed was supplied (soap, tp, dishes, towels) and the bed was very plush and comfortable. I appreciated the air purifier in the loft - the cool breeze easily kept us comfortable all night. We visited in June and experienced 90+ temps and the AC easily kept the cabin cool. The host thoughtfully left breakfast for us in the fridge and was very responsive and checked in on us via email during our stay. The cabin is off the beaten path, which I absolutely adored. The seating on the front porch was perfect for enjoying some quiet outdoor time and the field of longhorns (with a horse) and the windmill on the property were welcome sights. We were plenty close to town and enjoyed the drive and scenery along the way between town and the cabin. I plan to return for another trip in the near future and would love to stay here again, as well as recommend this cabin to family and friends.
We loved our stay here! As we arrived we spotted the gorgeous longhorns on the property. As we slowed down to take a picture, they immediately all came running up to the pasture fence. We initially thought they were just adorably friendly, until we saw the baby behind them that they were protecting. It was incredible! The fishing cabin is even cuter in person. It's entrance and the cabin itself is tucked into the trees, so it feels very private. The entire property is picturesque. Shortly after we arrived, Joan greeted us and provided us with some juice, milk, bacon, and fresh eggs from her chickens for breakfast the next day. It was very thoughtful and much appreciated. We only had one full day in the area, and ended up spending the whole time on the property. We roamed the property and saw the livestock, chickens, deer, and even a jack rabbit. Very peaceful, and the view of the hills across the road is breathtaking. All around it was a perfect trip. One note though (and certainly not a complaint) but when the windmill gets going, it has a high pitch squeal to it. After awhile you don't notice it much, but if you're a light sleeper and you're staying on a windy weekend you might want to pack your earplugs.
I always let my wife fill these things out. I asked her to let me do this one because I was so impressed with the location, the accommodations, the people who own it, the thought..care..love..and effort taken to see that we had exactly the experience WE wanted. I so appreciated all of it, and hope to be back (with family) many times in the future to rest, relax, stare at the stars, quietly hug my wife, watch the sunsets, and dream I am experiencing the life of my ancestors who helped tame this fine area of Texas. This citified seventh generation survivor of Goliad thanks you so much (on my 22nd anniversary to the finest woman on the planet) for the blessing of the experience you gave my wife and I during this unusually tough time in America.
Words cannot describe the experiences we had at the ranch. It's a beautiful property with awesome views ! There's a sense of serene tranquility with the space. As for actual cabin - it's nestled between trees, although not quite secluded as one would expect, given the title .. the cabin had all basic amenities and the host also left some good breakfast items.. To do suggestions- On the ranch- 1.) be sure to stargaze when you get a chance..luckily we did stargaze the first night and the second night was cloudy.. 2.) pull your outdoor chairs near the open field and watch the sunset in peace, while sipping wine - for us this was an amazing experience.. 3.) do take a look at the longhorns and pet the horse (my wife did not let me do it.. ) 4.) take a morning walk at the backroad and catch the sunrise view.. Around the ranch- 1.) picnic at Medina river and visit lost maples 2.) visit Ingram lake and Stonehenge II 3.) there's rattle spring ranch on camp verde side where (while driving) we saw some exotic animals like Zebras and several types of antelopes.. 4.) oh and the ranch opposite to it had white bison (very rare- 1 in 10million!) read less
My husband and I had a great time at this cabin, we will definitely be back! The location is beautiful with great views of the hills and Longhorns. The cabin is close to another house but is surrounded by trees so it feels secluded. The owners of the property are friendly and helpful. The cabin came with supplies for breakfast like pancake mix, fresh eggs and sausage. This was a great place to relax and is a short drive to downtown Bandera
View More...