How Do You Solve a Problem Like Medina?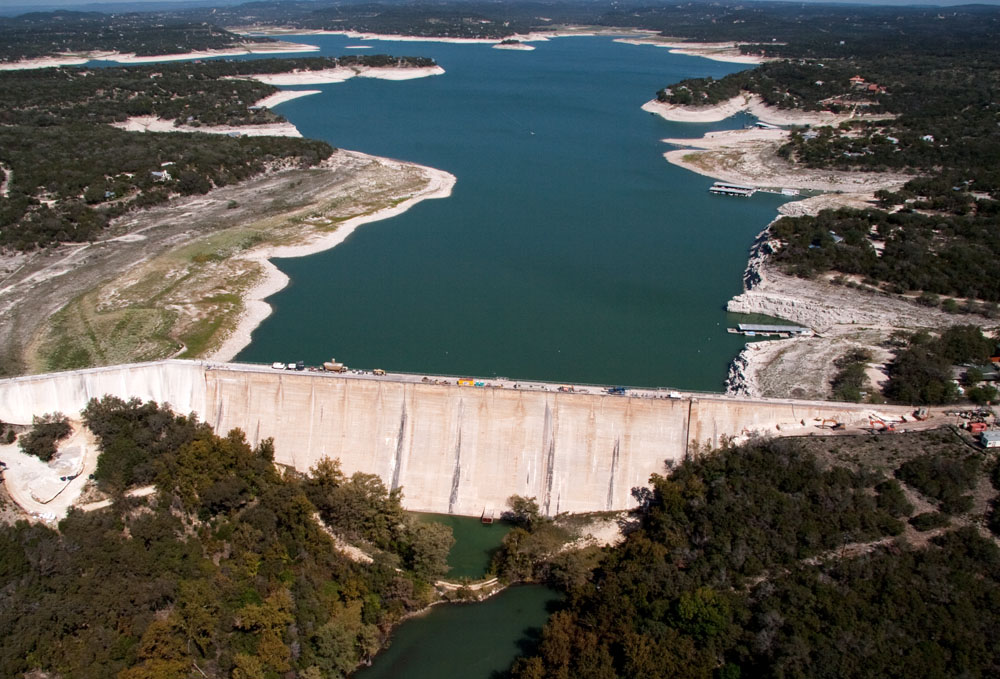 Author John Steinbeck grew up near the Salinas River in California. He called the Salinas a "sometimes river," because its levels varied so much from year to year. It would be little more than mud flats one season, and the next it would flood so violently that cattle and farms were washed away. Even as it frustrated the locals, Steinbeck said, it was their river, and they loved it as a part of them.
Here in the Hill Country, we can nod knowingly at Steinbeck's words as they relate to Medina Lake: it's our lake; we love it; it's part of us. The livelihoods of many people, and many species of wildlife, rely on its water levels and its ecosystem. Sometimes we can only sigh in resignation when visitors ask, "Hey, what's with the lake?" We can only do so much, we'd like to say. The rest is up to nature.
Indeed, it was intended as a means to give nature a boost that the Medina Dam was built in 1913. The dam is at the south end of what became Medina Lake, a reservoir intended to store water for agricultural irrigation. When it was constructed, it was the largest concrete dam in the US, and the fourth largest dam overall. Its significance was recognized when the dam was added to the National Register of Historic Places on March 15, 1976.
A pleasant consequence of the lake's creation was the recreational tourism that followed on its waters and shores. Nearby communities like Lakehills and Mico rely on the lake as a tourist attraction, and their economic fortunes rise and fall with the lake's water levels. When the lake does well, they do well. And, as is often the case with bodies of water in drier climates, Medina Lake is subject to occasional drought.
Here's where a brief historical review is important for perspective. From 2010 to 2013, blistering periods of drought hit the Hill Country, and Medina Lake dropped from nearly 90% capacity to below 5% in that period of time. As a result, recreational use of the lake plummeted, and there were gloom-and-doom articles written calling Lakehills a "ghost town," at least temporarily. However, 2015 and 2016 saw record rainfall in the area, and the reservoir jumped to 100% capacity during that period. This example isn't being used as a "past as predictor" case; but it's being presented to illustrate that recovery is possible.
At the time this article was written in the early summer of 2023, Medina Lake and the surrounding region is experiencing another drought. Despite intermittent rains, the capacity of the lake is hovering around 5%. Not only is the lake affected, but there are ripple effects in the region, ranging from irrigation concerns to dry wells in residential areas.
As dire as the previous paragraph may seem, there is cause for optimism! Save Medina Lake is devoted to reviving the lake and its environs to a healthier state. Their mission doesn't end when the reservoir returns to 100% capacity, either; they're devoted to finding water usage and conservation solutions beyond that point, to assure that another drought period won't hit the region as hard as past ones have. This goal will be reached with a combination of public awareness and the cooperation and action of lake management and local agencies.
We love the Hill Country, and we love Medina Lake! It's our hope that this article will help inspire action that will revive the communities surrounding the lake, so our treasured guests can enjoy its waters and beautiful scenery for another hundred years to come.
Backroads Reservations has been helping good folks like you plan memorable trips to the Hill Country since 2001. We live here, and love our neck of the woods, and we've learned a lot not only as property management professionals, but also with feedback from our wonderful guests. All this has come together in our Texas Hill Country Travel App! You'll find listings for over a thousand local businesses and attractions in over a dozen other Hill Country towns.