Hill Country Winter Weather: No Joke!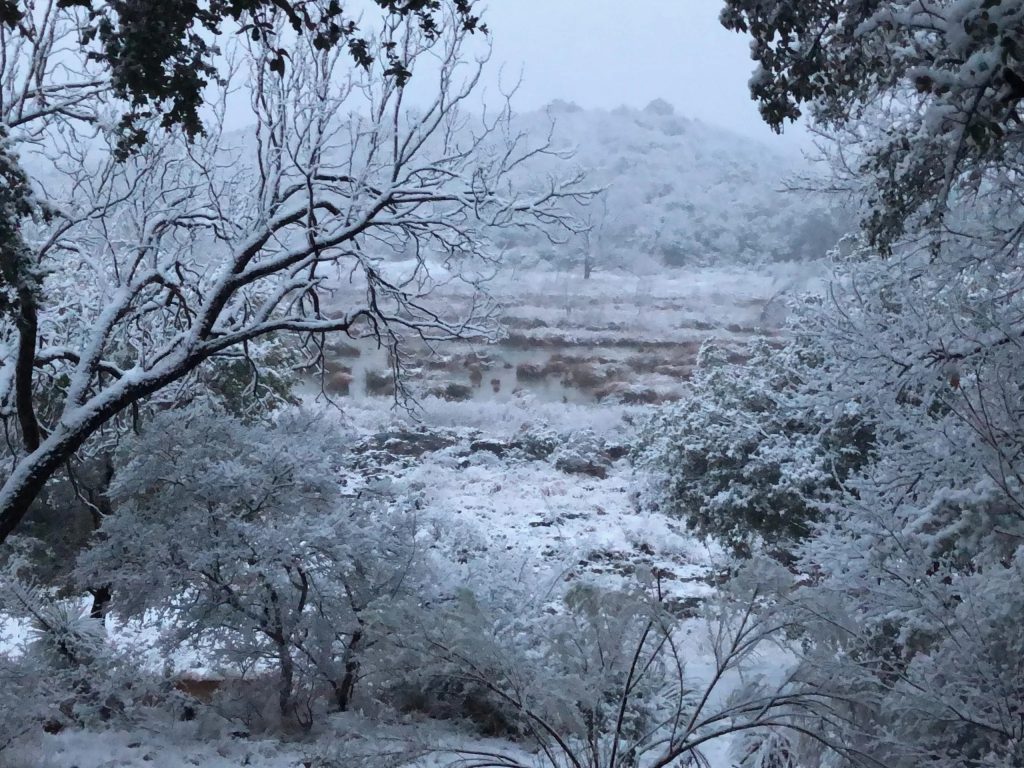 During summer, we'll show a vacation rental to a guest, and they'll chuckle and point at the fireplace. "Oh, I'm sure we'll be using THAT when it's 95 degrees outside!" They then smile and ask to see the swimming pool or nearby river.
Look, we get it. It's Texas. Snowbirds come here to enjoy the mild winters, and they start showing up the minute flakes start to fly where they live. They open up Facebook and laugh at their friends in Chicago or Minneapolis who are shoveling piles of the white stuff. "Thank goodness we don't have that," they assure themselves, wearing shorts, t-shirts, and flip-flops in November. However….
You see the picture accompanying this article, of trees and mountains dusted with snow? It was taken on December 31, 2020, just northwest of Fredericksburg. Fredericksburg, TEXAS. Right in the heart of the Hill Country. Two to three inches of snow fell that day, and cooler temps allowed it to stick around for a couple days more.
Using Fredericksburg as a model, their coldest average month of the year is January, with highs of 61 degrees, and lows of 31, according to the National Oceanic and Atmospheric Administration (NOAA). But those are averages, and you may have days above or below those marks. Even in the Hill Country, winter nights can get cold, and you'd love a fireplace!
On a more somber note, on February 11, 2021 there was a mix of freezing rain and snow over central Texas, and that morning saw a 133-vehicle pileup on I-35 West in Fort Worth. Freezing rain occurs in the Hill Country, and this accident serves as a reminder that what may look like "trivial" winter weather can turn tragic.
Don't let winter catch you with your guard down! Here are some winter driving tips:
 Is the trip necessary? Sometimes it's best to wait until conditions improve.
Assess road conditions before you go. Dialing 511 gives you current local info, no matter where you are in the US. Monitor the weather, too.
Make sure your vehicle windows are clear. If you don't have an ice scraper, run your vehicle until you can sweep off snow and ice with your hands.
Don't use your brights! That light bounces off falling snow and reduces your visibility and that of other drivers.
Allow lots of braking space, and brake slowly. Stomping on brakes can make you spin out of control. Leave extra space between you and the vehicle in front of you; slippery surfaces increase stopping distances exponentially.
Drive defensively. Assume any other vehicle you see is occupied by someone who isn't good at bad-weather driving. Do your best to anticipate their next moves.
Even if you're not behind the wheel, here are more winter weather tips to follow:
Pack accordingly. You may have t-shirt and shorts weather; who knows? Realistically, though, bring cold-weather clothing along, too. This includes gloves and shoes or boots with deep treading for better footing on slick surfaces.
Prepare for outages. Ice, snow, and wind can down power lines. Bring flashlights (candles can pose a fire hazard) and food that doesn't require cooking. If bad weather looks certain, make sure your phone is fully charged.
No matter the weather or time of year, the Hill Country Travel App provides a powerful resource for those traveling in the Hill Country! This FREE download provides up-to-date information about dozens of towns, local businesses, events, and much more. It's available on both iPhone and Android!