Hill Country Holidays with a Dickensian Twist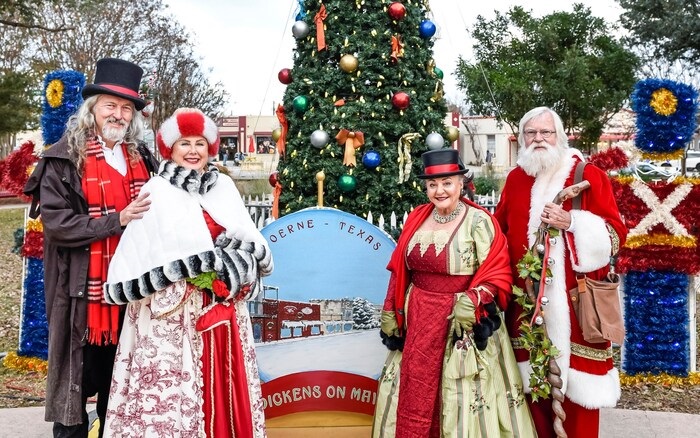 As the holidays roll around each year, sometime during the hustle and bustle of the season our thoughts turn to what is easily one of the greatest Christmas tales ever told: "A Christmas Carol," published just six days before Christmas in 1843, penned by legendary British author Charles Dickens.
The story's been told in cinematic form several times. It summons up images of Victorian London and the travails of counting-house employee Bob Cratchit, optimistic despite his tough plight, the suffering of his frail son Tiny Tim, and the eventual redemption of the stingy and sardonic miser Ebeneezer Scrooge.
The magical holiday spirit that Dickens evoked has inspired generations of people all over the world, and it's in that spirit that the Hill Country town of Boerne holds their Dickens on Main celebration during Thanksgiving weekend every year. The festivities got their start in 1999, and have grown in popularity every year since, becoming a much-anticipated local tradition.
At first thought, you might consider the blending of Dickens' London and Boerne's Texas history to be a culture clash. Rest assured, though, it works beautifully. There's something magical about watching folks dressed in Victorian garb dancing a traditional Texas two-step! The whole town pulls together for this holiday spectacle, and the historic buildings of Boerne's downtown transform into a vintage holiday wonderland as the Hill Country Mile becomes Dickens Village. Though the celebration is held Thanksgiving weekend, many of the glittering decorations remain throughout the holiday season.
Friday and Saturday of the celebration are both packed with delights the entire family will enjoy. Live music and costumed performers create the perfect holiday mood, and stores and vendors in Boerne's downtown district will be decorated and open for business. Kids will enjoy crafts and activities designed just for them, and it wouldn't be the holidays without an appearance by Santa! A special highlight of the celebration is a touch you might find in London, but you wouldn't expect in Boerne, Texas: snow! And it wouldn't be a Dickens holiday without a performance of the story that has intrigued and delighted generations, with Scrooge's transformation from "bah, humbug" to "a very merry Christmas, indeed!"
After your hearty Thanksgiving feast, pay a visit to the Dickens on Main celebration in downtown Boerne. It's a sparkling production that draws hundreds of people here every year, and for good reason. The presentation is a true holiday wonder that will stir the hearts of kids and kids at heart alike! Again, the festival is held every year on the Friday and Saturday of Thanksgiving weekend. Please be aware Main Street is closed to vehicle traffic during the festival, but there is plenty of public parking on nearby side streets. Up-to-date event information is available at https://holidaysinboerne.com/dickens-on-main, and their Facebook page ID is dickensonmain. You can also call (830) 248-1617 for more information.
Rouse your holiday spirit with an inspiring visit to Boerne's Dickens on Main! For more information about Boerne and over 20 other towns in the Hill Country, we offer great traveler assistance with the most current information in our powerful exploration tool: the Texas Hill Country Travel App! The FREE download provides up-to-date information about local businesses, events, and much more. It's available on both iPhone and Android!