Christmas in comfort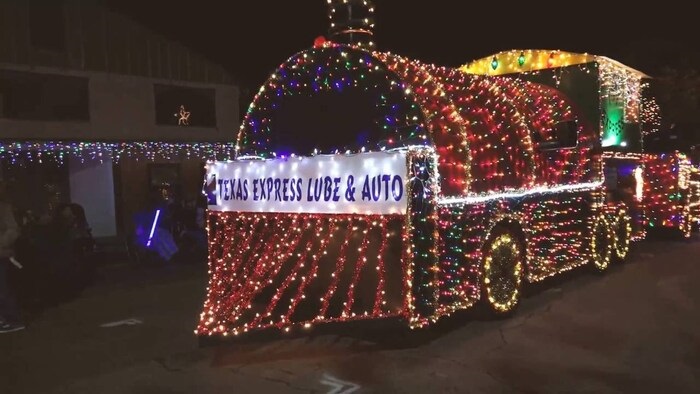 If you hear the words, "Christmas in comfort," you might imagine something simple. After opening presents with the family, you may look forward to nothing more than kicking back in your robe and slippers, maybe sipping a nice cup of cocoa, perhaps taking in a football game. Just you and your recliner. That certainly sounds like a comfortable Christmas!
And that may very well be how your Christmas day will go, in the lap of leisurely luxury you've earned over the course of the year. However, before you lose yourself in a wonderful daydream of such a relaxing day, we'd like to take a quick moment of your time and discuss our version of "Christmas in Comfort," this one with two capital 'C's.'
You see, the Hill Country town of Comfort has a holiday tradition that goes back over three decades, and it's called, simply enough, Christmas in Comfort. It's held the Saturday after Thanksgiving each year, and serves as a festive and entertaining way for the town to kick off the holiday season. As the celebration has grown over the years, it has become a highly anticipated celebration for locals and visitors from all over the Hill Country and beyond.
Back in 1989, Comfort native Garry Schwab thought it might be a neat idea for his little town to put on a parade to celebrate Christmas. To put it mildly, those he shared the idea with weren't entirely on board with it, claiming it would never work. Despite that, he forged ahead and arranged a parade anyway, one that stretched two blocks and featured eight entries total. As the saying goes, from humble beginnings….
Today, Mr. Schwab is revered and respected in town as a visionary who saw potential in his idea. The lighted night parade is now the cornerstone of the Christmas in Comfort festivities, currently drawing over 100 entries and floats from over 20 towns. It culminates in a dazzling fireworks show, and attracts around 25,000 people. Not bad for a town with a population around 3,000!
Like the parade, the festival surrounding it grew over the years. Its first year was a comparatively small affair, with a few booths you could count on two hands; today, it boasts over 125 arts, crafts, food, and drink vendors, and a full day's schedule of events. There is live entertainment scheduled throughout the day, great food, drink, and shopping opportunities, and the popular lighted parade in the evening. Kids can pay a visit to Santa when he stops by, and it all takes place with the beautiful and historic buildings of downtown Comfort as a backdrop.
So, your Christmas Day we'll leave up to you; if you want to spend the afternoon in lounging pants and a sweatshirt, we won't judge! But to kick the holiday season off, we highly recommend travelers in the Hill Country stop by Christmas in Comfort. It's a fun and uplifting gathering for all ages! For more information on the celebration, you can call the Comfort Chamber of Commerce at (830) 995-3131, or check out the event's schedule online at https://www.comfortchamber.com/events/christmas-in-comfort/.
Comfort on Main is a wonderful way to get your whole family into the mood of the holiday season! For more information about Comfort and over 20 other towns in the Hill Country, we offer great traveler assistance with the most current information in our powerful exploration tool: the Texas Hill Country Travel App! The FREE download provides up-to-date information about local businesses, events, and much more. It's available on both iPhone and Android!