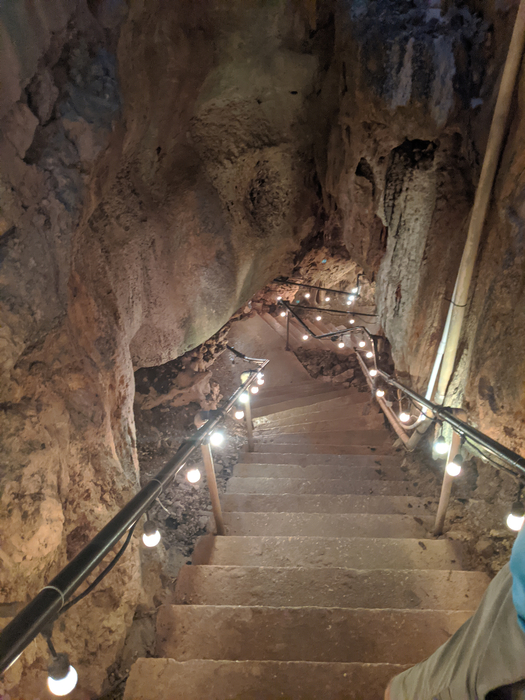 Check out our cabins in the Boerne, Texas area.
If you travel 11 miles northeast from the Texas Hill Country town of Boerne, near the junction of FM 474 and Kreutzberg Road you'll find the Cave Without a Name. Millions of years in the making, the majesty and mystery of this cave has been inspiring visitors to the area since 1939. Natural acids in the local groundwater have sculpted the limestone foundation here into what is called a solutional limestone cave—simply because it's been created by a mildly acidic water solution. This long process of simultaneous erosion and mineral deposits has carved out the stunning underground display that stands, and astounds, today.
Over those countless years, water has flowed through the limestone, creating a mineral-rich solution that has deposited stalactites, stalagmites, delicate soda straws, and pillars of limestone that's almost liquid-like in appearance. The beauty of this natural wonder has fascinated generations of Texans, and visitors from all over the world. In 2009, the National Parks Service officially designated the Cave Without a Name a National Natural Landmark, citing it as a significant and unique example of geological formations, specifically speleothems. Those very same speleothems earned the location a listing as one of America's best show caves by the National Caves Association.
Now, you could very naturally ask, what in the living daylights is a speleothem? They're pretty much anything that contributes to the geological makeup of a cave or cavern, such as stalactites and stalagmites. A common question that's asked is: how do you tell the difference between the two? Here's a little trick: take a look at the first letter of the last syllable of each word. For example, the first letter of the last syllable of stalactite ("tite") begins with the letter T. A capital letter T points downward from the ceiling, like a stalactite. In contrast, the final syllable of "stalagmite" ("mite") begins with M. The capital letter M looks like two pointed structures rising up from the ground, just like stalagmites. Ta daah! Oh, by the way, when a stalactite and a stalagmite meet, forming one continuous formation of limestone from floor to ceiling, that's called a pillar or a column.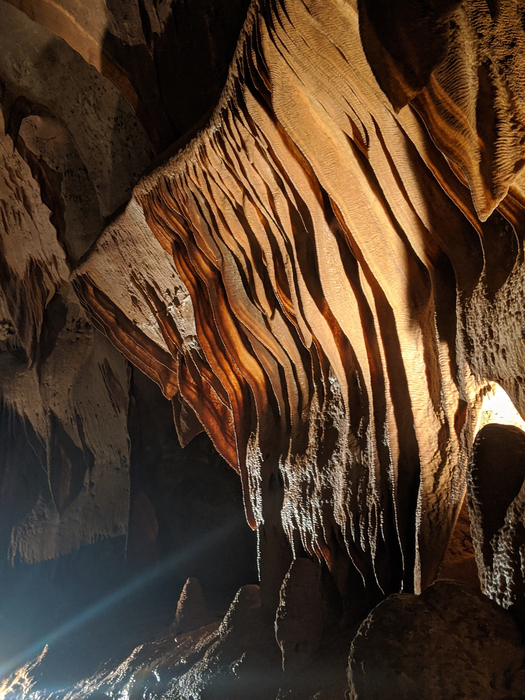 You probably didn't realize you'd get an enlightening little lesson on speleothemic mnemonics today, did you? With that done, though, let's get back to the specific cave of interest here, the Cave Without a Name. From the surface, you'll take 126 steps down into the cave, which is located about 80 feet underground. No matter what the temperature is at the surface—even on those boiling-hot Texas summer days—the temperature inside the cave is a consistently cool 66 degrees Fahrenheit. The glittering and glowing features of the cave's formations is breathtaking, with light dripping sounds that indicate the cave is still being built slowly, drop by drop, even as we speak. There are so many varying features down in the cave (those speleothems again!) that each repeat visit here will reveal new wonders.
Deep down in the cave is the Queen's Throne Room, where special events such as concerts are held periodically throughout the year. The cave's acoustics are just as appealing to the ear as its limestone features are to the eye; it's a concert experience you won't find anywhere else! With an above-ground pavilion available to guests as well as conference and event space inside the cave itself, there are multiple unique opportunities for you to schedule your next special event here. Stroll the hiking paths for a peek at the area's wildlife, find your way through the winding labyrinth, and cut open a sparkling geode—a miniature crystal cave in and of itself! There's also a visitor's center and nature-focused gift shop on the grounds, where visitors can learn more about the cave's history, and take a special memento home!
One note of interest (and occasional confusion) in the area of the Cave Without a Name: The Kreutzberg Canyon Natural Area, a popular local hiking and picnicking spot, is very close to the cave; as a matter of fact, some visitors mistakenly believe the cave is part of the natural area. While close together, these are separate locations; also, while the natural area doesn't charge admission, the cave does (please see additional cave contact, hours, and admission details below). For more information on the Kreutzberg Canyon Natural Area, check out our article here.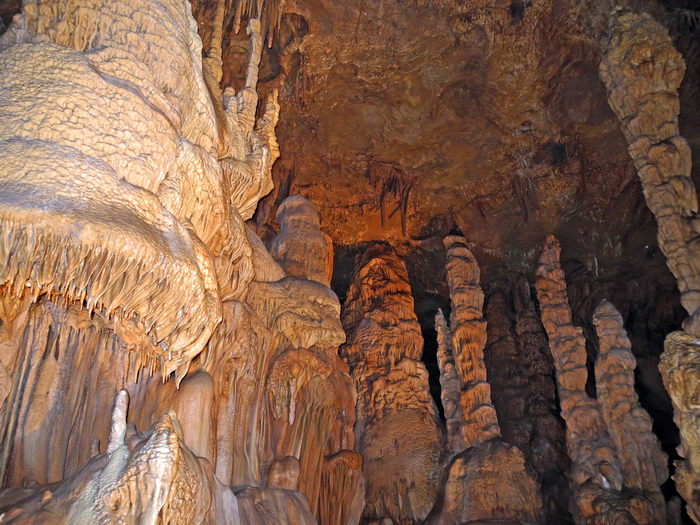 The Cave Without a Name is just one shining example of the fascinating and fun things to do and see in the beautiful Texas Hill Country. Backroads Reservations will be delighted to help you find the most unique and comfortable vacation getaways for your visit here! We've had thousands of pleased and pampered visitors to our neck of the woods since 2001, and we can put you close to where you want to be here, whether you've got a big family reunion to plan, or a simple and relaxing romantic retreat.
The Cave Without a Name is located at 325 Kreutzberg Road, Boerne, Texas 78006, and their phone number is (830) 537-4212. Due to space restrictions inside the cave, reservations for tours are required. Tours depart from the Visitor's Center, and are held at the top of the hour from 10 AM to 4 PM. Tours take approximately one hour, and cover six different areas of the cave below. From Memorial Day through Labor Day, their hours of operation are 9 AM to 6 PM, and post-Labor Day to Memorial Day, they are 10 AM to 5 PM. The park is closed Thanksgiving Day and Christmas Day. Standard admission prices are: Adults $20, Children 6-12 $10; Military/Senior admission is: Adults $18, Children 6-12 $9; Group admission prices (for groups of 12 or more) are: Adults $15, Children 6-12 $8.25. Children under six years of age are admitted for free. Special group tour rates are available for schools and scout troops.
There's a number of Hill Country towns within an hour's drive of the Cave Without a Name, and they all have their own attractions and unique personalities to explore. Sample that fabled Hill Country hospitality in these nearby towns:
Bandera (35 miles southwest)
Boerne (10 miles southwest)
Helotes (35 miles south)
Kerrville (45 miles northwest)